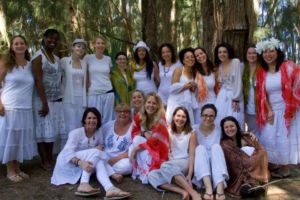 Today's blog is written by Kristin Revere, Certified Birth and Postpartum Doula and Certified Sacred Postpartum Mother Roaster.
As the end of World Doula Week nears, I feel I must speak my truth.
Before having kids my purpose was to support women in politics. I wanted more voices in office and wanted to run for office myself. I still do. I wanted women to feel confident raising money. I still do. When I was pregnant and busy working on a Governor's race, I felt a loss of control. I was used to planning everything in life. Birth was something I couldn't predict; even my pregnancy had twists and turns when I developed pre-eclampsia. I didn't know what a doula was eight years ago, and I wish I had. The second time around, I did and we hired doulas before anyone even knew I was pregnant.
Why doula? I am a doula because I have the honor of truly seeing women when they are strong and when they are vulnerable. I have the honor of seeing their partners supporting them tenderly. I stand with women who struggle with loss and infertility. I stand with women who make hard choices. I support them, without judgment in their decisions, to prepare for unmedicated births, epidural births, cesarean births. I walk with them when they choose to breastfeed, exclusively pump or bottle feed. I acknowledge them when they choose to stay home, work from home or go back to work. I remind them to surrender and to breathe. I remind them to slow down. I remind my clients that this is only temporary and that they are strong. I still cry after every birth… mostly while sitting in my car. Mostly tears of joy and sometimes the tears are painful. You know those cries when your full body shakes? I have experienced my share of those, as well.
It was five years ago today that I took my family to Virginia for a four-day Sacred Pregnancy Instructor retreat.
That experience changed everything for me. I began to understand how to support women fully. I started teaching classes two weeks after my training. Soon after that, I took a Sacred Postpartum training in Georgia and then a four-day Sacred Doula training in Florida as I was asked to support my students at their births.
I sat in circles with my Sacred Pregnancy students for eight weeks and we were raw and real with each other. We stripped down our layers and expressed our fears and our dreams to each other. I believe that women need to connect with each other in that way. Women desire to feel understood and supported and to be fully seen and accepted.
I wasn't sure birth doula was my calling at first. At my Sacred Doula training, I was seen as least likely to make it due to my fear of blood. I got over that fear quickly, by the way. Very few of the women in my training are still doulas. The average doula does this work for three years before burnout. A lot of this is because of the low pay, on-call lifestyle, the inability to predict how long you will be away from your family, the physical and emotional stress of birth work, and more.
I proudly hold two birth doula certifications and am a certified Postpartum and infant care doula. My next step is to become a certified childbirth educator.
I started Gold Coast Doulas with my business partner to better support families. Our birth doulas work in teams and therefore will stay in the field longer because of a better work – life balance; doulas who can give more because they aren't always on call. They can plan for a vacation, a birthday party, or a camping trip and still take clients.
Our clients get the experience, support, and perspectives from two doulas throughout pregnancy, and if labor is long they will have a second refreshed doula at their side as needed. This model better supports our doulas as well. They have mentorship, support, and a place to grow. We take care of each other and honor the choices of those who step away from the work after having another child or for family reasons. They know they also can come back if circumstances change.
Gold Coast Doulas is made up of 15 birth and postpartum doulas, an infant massage instructor, a board certified lactation consultant (IBCLC), and a placenta encapsulator. We keep growing and adapting to the needs of our clients.
With the way birth support so strongly called to me, I never thought I would like postpartum doula work the way I do. Birth work is important, and I know now postpartum care is even more important.
There is a pressure in America to get back into skinny jeans, to get back to work, to be supermom. The focus after birth is always on the baby. Who is there to check on how the mother is coping? Everyone wants to hold the baby and bring gifts for the baby.
We need to acknowledge the mother.
We make sure she is nourished, rested, her house is picked up, we allow her time to shower or sip on tea on her porch. We acknowledge her fears and support their choices. We also help when the partner or mother is traveling. We help them manage the work, care for a baby, play with a toddler.
Doulas allow the client to breathe, and let them know that they are strong and that this is only temporary. We acknowledge them. We all want to be seen and we all want to be fully heard. That is why I do this work. We must support each other. We shouldn't have to go at this alone.
This work is my true purpose. I see you, I stand with you, I walk with you. I am a doula.