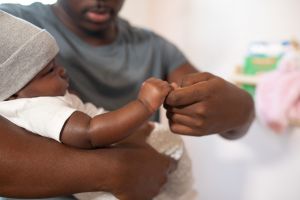 Newborn Sleep - What New Parents Should Expect
New parents often have unrealistic expectations about sleep when they bring a baby home. Some parents think they will get to sleep a lot because a newborn sleeps a lot. I've heard other parents say they don't think they will get any sleep for weeks or months. I'm here to tell you that neither of those are true.
Yes, a newborn does sleep a lot. Yay! But they also need to feed often. Like every hour or two in the beginning. All day and all night! So while your newborn may sleep 19 hours in a day, that sleep is happening in several short chunks of time throughout a 24 hour period.
For a breastfeeding mother this is especially hard. She will be feeding her newborn every couple hours and that feeding could take 45 minutes. Let's put that into perspective. Your newborn wakes to eat at 2:00am. You are done feeding at 2:45am, burp and change baby's diaper, get baby back to sleep, and now it's 3:00am. Your newborn feeds every 2 hours so that means you have one more hour to sleep until you start this whole process over again. Yikes!
Once a newborn becomes more efficient at feeding (or is bottle fed), they can often go three hours between feedings. This allows you more time to sleep between feeds.
Fathers/partners often wonder what they can do to help an exclusively breastfeeding mother. If/when a mother decides to start pumping, someone else can take over some of the feedings with a bottle. This can be a huge relief to mothers in the night and allows for one longer stretch of sleep. Partners can also help with diaper changes after a feed so Mom can get back to sleep sooner. They can also make sure mom is well fed and hydrated.
For bottle fed babies, fathers/partners/doulas/caregivers can help with feeds in the night while mom sleeps. For instance, mom feeds baby at 9:00pm then goes to sleep. Someone else does the 11:00pm feed, and mom wakes at 1:00 for the next feed. That allowed mom to sleep for four hours. It doesn't seem like much now, but when you're sleep deprived, a four hour stretch of sleep is the best gift anyone could give you!
For the first several weeks, there really is no predictability to a newborn. They will sleep a lot and eat a lot, period. If your newborn sleeps for hours at a time without waking to eat though, this is not a bragging right. This is something to call your pediatrician about. Babies need to eat frequently! On the other hand, if your baby doesn't want to sleep and cries a lot, you should also call your pediatrician.
You get through the first 4-6 weeks or so, you're sleep deprived and feel a bit hazy, but you start to notice that there are some predictable patterns happening with your baby. For instance, they are feeding approximately every three hours and can stay awake a little bit longer after feeds. What does this mean? They are slowly adjusting to a natural circadian rhythm. Every living thing has a rhythm. Our bodies naturally wake when the temperature warms and the sun rises (we produce serotonin to make us feel awake). When it's dark and cool, our bodies are ready for sleep (we produce melatonin to make us feel sleepy). 
Follow your baby's cues during this time. When you notice signs of tiredness, get them into the basinet for a nap. Try to keep them awake for a bit after feeds. Think of this pattern – eat, awake, sleep, eat, awake, sleep. This will do two things for parents:
1- Separate feeds from sleep. This is the number one reason parents call me for help. Their baby is used to only falling asleep while feeding or being held and they can't sustain that long-term.
2- Awake time after feeds allows for lots of stimulation which makes baby tired for a nap. As a baby gets older, they are more alert and interested in their surroundings. All this mental and physical stimulation helps tire them out for naps.
So what does this mean for parents? Now you know in the initial weeks home with a newborn, don't expect much sleep. Sleep when you can, limit visitors, and accept help! But after a couple months, you should see some predictability. This is when a baby becomes more efficient at feeding. More calories in during the day means longer stretches of sleep at night. Read that sentence again… I'll wait. Focus on good feeds during the day and fewer at night as your baby gets older. A hungry baby doesn't sleep, so good feeds are extremely important.
Your baby will slowly be able to stay awake for longer stretches during the day, creating a predictable nap routine. This allows parents to plan their days knowing when their baby needs to sleep.
Every family is different and there is no one-size-fits-all solution to sleep. If one parent stays home and does not need a predictable schedule, they may feed on demand and take naps during the day when the baby takes naps. If this works for that family, great! If both parents work, they usually need more structure, so having a predictable feeding and nap schedule, along with a set bedtime and wake time for the baby, is usually necessary. And some families will fall somewhere in between, where they want some structure, but the ability to be flexible. No matter what your parenting style is, don't be afraid to ask for and accept help. If you need someone to come during the day to watch your baby so you can nap or shower, who do you have that you can ask? A friend or family member? Do you have postpartum doulas in your area? How about overnight sleep? Do you have someone that could stay overnight and help you with feeds so you can get extra rest?
Bottom line, it will be okay! You have resources that can help along the way, use them if you can. There are tons of free feeding support groups. Find other mothers or parents who you can talk to. Hire a sleep consultant if needed (a good one isn't scary, I promise!). Check with your insurance plan to see what's covered. You may be able to hire a doula or a lactation consultant. You may be able to take some newborn, breastfeeding, or sleep classes. Knowledge is power, so take the time to find resources that fit your budget and personal needs. 
You've got this!
For additional information about pregnancy, birth, parenting, and sleep, check out Ask The Doulas Podcast on whatever podcast platform you listen to.
Alyssa is co-owner of Gold Coast Doulas, co-founder of the BECOMING a Mother course, a Certified Elite Postpartum & Infant Care Doula, a Newborn Care Specialist, and a Certified Infant & Child Sleep Consultant. She offers custom sleep solutions to families across the country to help new parents find balance and rest.