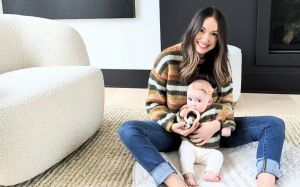 Meet Heidi - our newest birth & postpartum doula!
What did you do before you became a doula?
I have a background in healthcare management. However, for the past 6.5 years I have managed a law firm dealing in personal injuries. I am also a yoga teacher specializing in prenatal, postpartum, and fertility yoga.
  
What inspired you to become a doula?
It took me many years  to conceive my baby girl. Feeling the lack of control in my own journey, I began educating myself on our maternal healthcare system, choices, and norms. I began to feel empowered with all of the new information I had uncovered. While I waited for my turn to become a mama I decided that I would help other families on their journeys.
Tell us about your family.
I am one of 15 children, six sisters and six brothers, originally from the east side of the State. I have a wonderful husband and a blended family of three strong and amazing daughters. We also have a ball-obsessed Labradoodle.
What is your favorite vacation spot and why?
Anywhere warm and humid with a touch of adventure! I love a cruise with options to see a lot of places in a short time.
Name your top five bands/musicians and tell us what you love about them.
Truly my musical selections bend to my mood.
John Mayer – amazing songwriter
Amos Lee – sings to my soul
Deva Premal & Mitten – because you can't not love someone named Mitten
Dolly Parton – speaks for herself
Beach Boys – I'm a sucker for nostalgia
What is the best advice you have given to new families?
Support yourself by lining up the support you're going to need!
Delegating tasks to others doesn't make you a lesser parent, partner, or spouse. It makes you smart.
What do you consider your doula superpower to be?
My ability to anticipate a need, then seamlessly sneak in and fill the cracks where help and support are needed.
What is your favorite food?
Inn Seasons Salad from this vegan restaurant in Royal Oak…yum!
What is your favorite place in West Michigan's Gold Coast?
I am a sucker for rock and stone collecting. Hiking over Sleeping Bear and spending hours head down searching for hidden gems is my favorite!
What are you reading now?
The Whole-Brain Child by Daniel J. Sielgel and Tina Payne Bryson.
Who are your role models?
My older sister Nici has always, ever since we were young children, been miles ahead of me. And my mother showed me what unconditional love and empathy for everyone truly looks like. Together they lit the torch and blazed the trails so I could find my way.