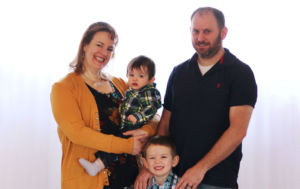 Meet Jessica Kupres, BSN, RN, CLC, CBE - our newest postpartum doula!
1) What did you do before you became a doula? 
I was a labor and delivery nurse for 13 years, a nurse for the maternal infant health program for two years, a phone triage nurse at a pediatric office for almost a year, and am currently working as a childbirth and breastfeeding educator, as well as teach a sibling's class and infant massage class.
2) What inspired you to become a doula? 
My mother was a doula, though only assisted friends and family. That's how I saw my first birth at 14 that shaped my future career. I also feel families need a lot of support when a new baby comes home. Unfortunately, most mothers don't get the help they need.
3) Tell us about your family. 
My Husband and I have been married for 6 years. We have two boys. Kaden is 5 years old and Carson is almost 2. We are a pretty close family, and grandma and grandpa are usually over several times a week. I love to do crafts with my boys.
4) What is your favorite vacation spot and why?  
My favorite vacation spot is Disney World. Every year as a child my family went to Disney World, so there are a lot of very special memories. About every 5 years my family, including my parents and my siblings and their families go down to Disney World together. It is great to spend time with family in the most friendly and magical place in the world!
5) Name your top five bands/musicians and tell us what you love about them. 
1) Justin Timberlake – He has catchy songs that make me want to get up and move.
2) Taylor Swift – I love her songs and she is great to her fans.
3) Imagine Dragons – Just like their music.
4) Ed Sheridan – I like his music and positivity.
5) Colbie Caillat – I like her positivity.
6) What is the best advice you have given to new families? 
Do what works for you and your family. Don't worry about impressing others or doing what everyone else is doing. Keep life simple at the beginning.
7) What do you consider your doula superpower to be? 
Encouraging others and being calm and nonjudgmental.
8) What is your favorite food? 
Chocolate!
 9) What is your favorite place in West Michigan's Gold Coast?
I love going to the Fredrick Meijer Gardens with my kids because there is so much to do there.
10) What are you reading now?
Love and logic.
11) Who are your role models? 
My Grandmother – she was a strong woman, always spoke the truth, and was a great artist.