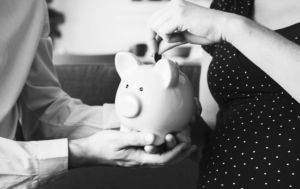 How To Pay For Your Doula
We had a client recently tell us that our costs are too low for what all we offer for pregnancy and birth support. We certainly agree with him as we are on call for clients 24-7 from the moment they sign a contract with us. Some births are two hours and others are multiple days. We miss holidays, birthdays, and plan our vacations around client due dates. We love this work, but it does take a toll on us emotionally and physically. Doulas often add the "unless I am at a birth" clause to every social invite. This work is rewarding, but very unpredictable.
Our Gold Coast Doulas team is worth much more than our current rates, but we want a teacher to be able to hire us without a huge financial strain.  We go above and beyond to make all of our clients feel like VIPs because they are. Even with our exceptional service, clients often ask us how we can help make doula support work with their budgets.
We are thrilled that most HSA and FSA plans now consider birth doulas as a qualified medical expense. Many Gold Coast clients choose to allocate their HSA or FSA funds to pay for doula support.  Unfortunately, standard insurance doesn't cover doula support in Michigan at this time. Hopefully that changes in the near future.
We are finding more and more grandparents or friends wanting to gift postpartum doula support or classes to our clients. We can make custom baby shower inserts and can create gift cards for any of our services. We are also on the online and in-store baby registry at Ecobuns Baby & Co in Holland. Why not reduce the baby shower clutter and ask for a postpartum or birth doula instead? We aim to make your life easier during a time of many transitions.
Gold Coast offers payment plans for most of our services once the standard deposit is made. We also accept credit cards, cash, money orders, and checks. We are a professional business and as a result do not barter for chickens or canned goods, although we do believe in supporting our local farmers with our own money.
We offer packages if you purchase one or more classes or services as we want you to feel supported and prepared as you start or grow your family. This makes adding on services more affordable and gives you the VIP support you are looking for. We are happy to customize any options just for you. Please reach out and email us info@goldcoastdoulas.com with any questions or fill out our contact form. We are here to help.