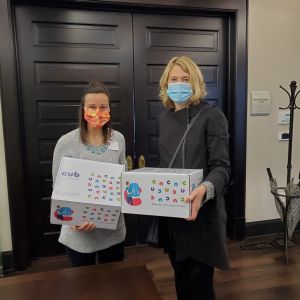 Gold Coast's 2021 Year-End Review
Whew. We made it through 2021. Our word of the year is resilient. We have mad respect and love for healthcare professionals that have gone through two years of a pandemic. Our clients are so strong and determined. Our team was able to adapt to changes quickly with the focus on serving and attuning to each client's unique needs.
Here are the Gold Coast stats for 2021:
Number of classes taught: 22
Number of 2021 students: 108
Number of birth clients that delivered in 2021: 100
Average Continuing Education trainings per doula: 4
Clients served: 236
New Subcontractors Added to our Team: 7 doulas, 1 sleep consultant
Elite Certifications Achieved: 14
Ask the Doulas Podcast- We ended the year with 135 episodes total. Feedspot ranked Ask the Doulas as 7 of the Best 15 Doula Podcasts on the Planet in 2021.   Listen Notes ranked Ask the Doulas as one of the top 5% most popular shows out of 2,747,894 podcasts globally. We launched our podcast in 2017 and are still growing strong thanks to our fantastic guests and listener support.
Becoming A Mother Course: Launched in March of 2021 with 54 students and three live launches.
Lactation: 28 clients
Sleep Consultations: 34 clients served
Day and Overnight Postpartum hours: 4,500
Multiples: 10 families served.
Awards: West Michigan BBB Torch Award for Ethics Finalist
GR Chamber's Epic Awards Top Woman-Owned Business of the Year
Revue Mag– Best of the West 3rd place in Wellness Category,
International Trade Council-Top Placer for Professional Services in the 2021 Go Global Awards.
GR Kids Annual Top Doulas listing—Several team members were recognized under birth and postpartum.
Publicity: the Lily https://www.thelily.com/some-big-companies-are-starting-to-cover-the-cost-of-doulas-will-others-follow/.
First Time Parent Magazine: Articles on sleep and hiring your dream birth and baby team.
Gold Coast became a Climate Leader with Aclymate. We backed the Kansas City Reclaimed Transformer Oil Project.
Volunteer Hours:131.1
DEI Training hours: 15
Charitable Donations: $2,593
Diapers Collected: 8,601 disposable diapers and 74 wipes with Rise Wellness Chiropractic and other partnered businesses. We also collected 397 cloth donations.
We are so thankful for our clients, partners, podcast listeners and students. We are honored to do this important work.