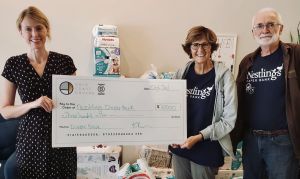 6th Annual Diaper Drive Results Are In!
The final numbers are in for the Gold Coast Doulas LLC diaper drive for Nestlings | Diaper Bank of West Michigan. We collected 8,601 disposable diapers and 74 wipes. These diapers are packed in groups of ten to impact families in need. We are thankful to all of our clients and community members who donated from September 1st to October 3rd during our sixth annual month-long diaper drive. 
Gold Coast takes sustainability seriously as a Certified B Corporation. We appreciate the generous cloth donations. We received the following used and new cloth diapers:
108 cloth diaper covers
88 cloth wipes
15 wet bags
93 diaper pads
93 prefolds
6 snappies
Gold Coast also donated $300 to Nestlings Diaper Bank. 
Many props to our fantastic dropoff locations including:
In Zeeland:
Howard Miller Library 14 S. Church Street
R. Lucas Scott. Co.  650 Riley St.
In Holland:
FIT4MOM Holland: Donations taken at classes
Brann's 12234 James Street
Harbor Health and Massage 444 Washington Ave.
EcoBuns Baby + Co. 12330 James Street
The Insurance Group 593 Heritage Court
In Jenison:
Georgetown United Methodist Church 2766 Baldwin St.
In Hudsonville:
Hudsonville Congregational United Church of Christ 4950 32nd Avenue
In Grand Rapids:
Rise Wellness Chiropractic PLC 1005 Lake Dr SE
Hopscotch Children's Store:909 Cherry St SE
Mindful Counseling GR: Three locations
Fit4Mom Grand Rapids: Donations Accepted at classes.
Special shoutouts go to the following partners:
Ecobuns collected the most cloth diapers and had to have their bin emptied multiple times.
Rise Wellness Chiropractic collected around 4,080 diapers and 2,244 wipes from their clients and supporters.
Mindful Counseling came through once again with three offices participating and a an impressive collection of diapers.
Hopscotch had an overflowing bin with donations wrapping around their store.
Other honorable mentions with impressive collection efforts: Fit4Mom Grand Rapids, Fit4Mom Holland,  and all of the permanent drop-off locations in Holland/Zeeland and Hudsonville.
Final thanks goes to Nestlings for coordinating pickups and supporting our efforts along the way, and to all of you who donated and spread the word. We couldn't have made the impact we did without your help.