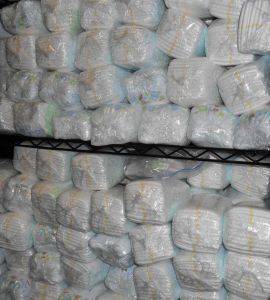 Gold Coast Doulas Diaper Drive
Gold Coast Doulas is celebrating its one-year anniversary on Saturday, Oct. 1 with a giveback event at Nestlings Diaper Bank located at 650 Riley Street, Ste. L in Holland. We are laughing the diaper drive with a  free event is from 10 a.m. to 1 p.m. Children are welcome. There will be food, refreshments, a photo booth, kids' activities and giveaways. There will be diaper wrapping activities from 10 to 11 a.m.
Diaper donations are welcome at the time of the event and throughout the month of September at Smedley Dental and the Howard Miller Library in Zeeland; Untangled Salon, Brann's, EcoBuns and The Insurance Group in Holland; Hudsonville Congregational United Church of Christ, and Gold Coast Doulas LLC, SimplyBorn Midwifery services, Renew Mama Studio, Midwifery Matters Community Center and Hop Scotch children's store in the Grand Rapids area. Visit goldcoastdoulas.com for more information. Dropoff days and hours vary by location.
The diaper drive coincides with National Diaper Awareness Needs week, Sept. 26 – Oct. 2. Diaper Need Awareness Week is an initiative of the National Diaper Bank Network (NDBN), created make a difference in the lives of the nearly 5.3 million babies in the U.S. aged three or younger who live in poor or low-income families. www.nationaldiaperbanknetwork.org.
Diaper sizes four, five and six the most needed sizes. Nestlings also accepts baby wipes, cloth diapers and open packages of diapers.
About Gold Coast Doulas
Gold Coast Doulas is the area's first doula agency offering birth doula support, overnight and daytime postpartum doula support, bedrest support, HypnoBirthing classes, placenta encapsulation and babycare classes. They serve Greater Grand Rapids and the lakeshore communities. www.goldcoastdoulas.com
About Nestlings Diaper Bank
Nestlings was founded in 2011 and has distributed over 375,00 diapers in West Michigan. 75,000 of them were in 2016, which helped an estimated 3,000 families. www.nestlings.org.