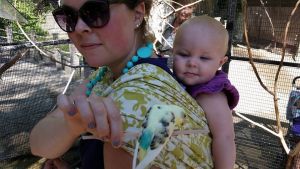 Meet Your Babywearing Educator--Ashley Forton
Gold Coast Doulas is thrilled to feature Ashley Forton in our latest Q&A about her experiences with babywearing. Reach out if you are interested in booking a babywearing consult with Ashley.
1) What did you do before you became a babywearing educator, HypnoBirthing Instructor and Doula?
I have a bachelor's degree in health sciences from GVSU. I have been a nanny, worked at an adult foster care home, and most recently was an insurance claims adjuster.  Now I am a full time a babywearing educator, HypnoBirthing Instructor and Doula.
  
2) What inspired you to become a babywearing educator?
I began using baby carriers when my daughter was a few days old and I immediately fell in love with it.  As my experience and knowledge grew I knew I wanted to help other parents and caregivers experience the joy and confidence that babywearing gave me.
3) Tell us about your own babywearing experiences.
When my daughter was born, I had been gifted a Moby (stretchy wrap) and an Ergo (soft structured carrier).  I started using the Moby wrap and a pouch sling when Elliot was a few days old.  One of my favorite memories is taking her to see the Stanley Cup when she was a few weeks old.  She slept in my sling the entire time we waited in line and I didn't need to lug around the car seat! As she got older I started using the ergo and also learned to love woven wraps and ring slings. Babywearing has allowed my husband and I to bring our children on some amazing adventures.  We hiked Red Rocks and St. Mary's Glacier in Colorado with my daughter on my back! After my son was born I began using my carriers even more frequently. Having two free hands while snuggling a newborn is especially beneficial when you have a toddler J We have had many camping trips with both kids (setting up a tent and chasing a toddler with newborn would have been impossible without babywearing!).  The benefits of babywearing haven't been enjoyed by just me.  My husband loved being able to unload the dishwasher while snuggling a baby when I was working late.  Even grandpa has gotten in on the action and has soaked up the snuggles while taking my kids on walks.
4) What is your favorite carrier and why?
Tough question! I have a lot of love for a lot of different types of carriers, for different reasons. Lately I tend to wear whatever my opinionated toddler picks 😉 He has been bringing me woven wraps and ring slings the most often. I love that I have been able to wear my babies in them when they were newborns and I can still wear both of my big kids in them!
5) Do you wear babies during postpartum doula visits?
I am always happy to use a family's carrier when caring for their child.  Wearing their child during a postpartum shift helps me get some housework done so they can just rest.
6) What is the best advice you have given to new moms?
Trust your instinct.  If it feels right to snuggle and hold your baby more than putting them down, then do it! In your arms is one of the best places for your baby to be and babywearing can help you hold your baby and still get things done.
7) What do you consider your babywearing superpower to be?
Sharing my love for babywearing.  I have been told my love and enthusiasm for babywearing is contagious 😉 I am a big fan of things that bring new families, joy, excitement, confidence, and the freedom to do what they need when they need to without sacrificing bonding time with their child. I can't help but be super enthusiastic about it and I hope you will be too!
8) What is your favorite food?
I love spicy foods, the hotter the better! I crave Mexican most often. I also love Thai, Ethiopian, and Lebanese foods. And sushi!  I am not a picky eater and really love trying new things.
9) What is your favorite place in West Michigan's Gold Coast?
Grand Rapids will always hold a special place in my heart. I love all the festivals, the sports teams, the museums, endless breweries and phenomenal restaurants. It has a small town feel with some big city perks and it is a short drive from the beautiful shores of Lake Michigan.
10) What are you reading now?
Childbirth Without Fear by Grantly Dick-Read.
11) Who are your babywearing role models?
I have really admired Babywearing Faith, Wrapping Rachel, and Hedwych of Wrap You In Love.  All three of those women inspired me to try new carriers, new carries, and to become an educator myself.
Gold Coast Doulas is a participant in the Amazon Services LLC Associates Program, an affiliate advertising program designed to provide a means for sites to earn advertising fees by advertising and linking to Amazon.com.