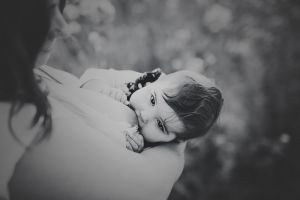 Can My Body Make Enough Milk?
Fact: Most breastfeeding mothers, at one time or another, worry about their milk supply. They wonder whether their body will make enough milk for their baby; if their supply will last.
Not surprising, since most of us have heard stories about moms who, despite wanting to breastfeed, reported not being able to; their milk dried up, baby refused the breast, they were told their milk wasn't good, etc. Many mothers head into breastfeeding with an expectation that milk production will be a struggle, due in part to these stories that are shared widely by well-meaning strangers, friends, family members, and even healthcare providers. But the reality is that most mom's bodies can make plenty of milk. The fear of low supply is much more common than the reality!
Before I go on, let me be clear that not all women who want to breastfeed can make enough milk to sustain a baby. There are many physical conditions that potentially impact milk production including birth complications, thyroid conditions, PCOS (Polycystic Ovarian Syndrome) and other hormone conditions, anemia, retained placenta, breast or chest injuries/surgeries, various illnesses, medications or hormonal birth control, or Insufficient Glandular Tissue (IGT – the technical term describing when breasts contain less milk-making tissue).  It's important to recognize that low milk supply is a very real scenario that many struggle with, and it's a serious topic that deserves a lot of attention of its own. But here we will focus on milk production in mothers with no prior physiological limitations; specifically on how low milk supply is less common than people think, and that it is much less common than "perceived low milk supply".
Perceived low milk supply, or Perceived Insufficient Milk, is when moms are making enough milk but think that they are not. This may not sound like a big deal, but it is. Why? Because, despite having no physiological basis, perceived low supply is one of the most frequently-reported reasons for early weaning! And it's a very stressful thing to worry about.
The good news: Perceived low supply does not equal actual low supply.
The bad news: Perceived low supply is very common, and, in addition to the fact that worrying is no fun, perceived low supply can cause low supply!
How can perceived low milk supply cause actual low supply?
When moms believe their supply is low, the way they feed changes, and how we feed has a strong influence on milk production. For example, moms might introduce supplemental formula if they perceive baby to be dissatisfied or hungry after nursing, or if baby is nursing more often than they expected or is waking frequently at night. It's easy to assume that low supply is the cause of these things if we aren't familiar with normal breastfeeding behaviors (especially when formula-feeding culture perpetuates unrealistic expectations for breastfed babies). Feeding on a rigid schedule, sleep training a young baby, or otherwise altering baby's feeding routine can impact milk supply very easily, so understanding the nuts and bolts of milk production, baby behavior, and growth patterns is important. All of the conflicting advice we receive from family, pediatricians, and friends is confusing! Knowing how to tell when things are going well gives parents confidence to keep going through the ups and downs. Since perceived low supply is not a physical issue, it is totally avoidable, as long as parents have support and access to good information.
How does milk production work?
Milk production begins as a hormonally-driven process, initiated by hormone changes at birth. Over time, it becomes a supply and demand process (meaning that, ideally, the body will adjust to make exactly what baby needs – no more, no less). The baby communicates how much it needs by eating exactly what it needs! If it needs more, it will suckle more, sending hormonal signals to mom's brain, which in turn tell her body to make more milk. This is one reason babies might seem to nurse around the clock during growth spurts. Not only are they trying to eat more, they are also instinctively "putting in the order", so to speak, for more milk to be made to accommodate their increased needs. Simply put, the more milk is removed, the more milk the body will make. Milk can be removed in a number of ways: directly feeding baby at breast, or expressing with a pump or by hand. If milk isn't removed regularly, milk production will be altered. This is how extra pumping can increase supply, or how skipping feeds or going long stretches between pumping at work can decrease supply. This also explains why babies who struggle to transfer milk can result in decreased supply over time, even if they are at the breast a lot! (There are many reasons why a baby might struggle to transfer milk effectively. Their feedings might take a very long time, or they may fatigue easily at the breast. If you suspect this, it's a good time to call a lactation consultant). But, compared to pumps, babies are usually more efficient at removing milk, due to the additional stimulation, warmth and eye contact inducing more milk-making hormones. Expressing milk, however, is very effective for some, and is a necessity for breastfeeding moms who work out of the home or are separated from their babies.
For more about milk production, look for a future post all about how to maintain a good milk supply!
If you need support in the meantime, an IBCLC, Board Certified Lactation Consultant, can help answer your questions about supply, foods and herbs to support lactation, help you determine if baby is getting enough, or troubleshoot concerns even before your baby arrives!
Author: Shira Johnson, IBCLC