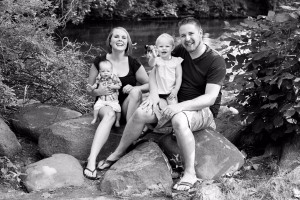 Meet Your Gold Coast Doulas - Ashley
1) What did you do before you became a doula?
I have a bachelor's degree in health sciences from GVSU. I have been a nanny, worked at an adult foster care home and currently work in the insurance industry..
2) What inspired you to become a doula?
When I was pregnant I had an incredible support system. That unconditional support made me feel like Superwoman! I felt confident and empowered. I want to be that type of support for other women and their families. Every woman deserves to feel like Superwoman as they become a mother!
3) Tell us about your family?
My husband, Joe, and I have been together for 11 years. We have two adorable kids. My daughter, Elliot, is a chatterbox and loves to make people laugh. My son, Colby, is determined to keep up with his big sister and is always on the move. We have a retired racing greyhound, named Maeby, who takes her retirement very seriously and naps more than anything but she also loves to be outdoors and always prefers to be wherever the people are.
4) What is your favorite vacation spot and why?
Half Moon Beach in Green Island, Jamaica(just north of Negril).  It is pure paradise. My husband and I were married on their private beach. The view is breathtaking. And what's not to love about waking up to waves crashing just below the front deck of your private cabin?? Not to mention the delicious food!
5) Name your top five bands/musicians and tell us what you love about them.
This is a tough question! I love a wide variety of music and if you ask me next week my answers might be different 😉
Anything bluegrass- give me a string bass, mandolin, a fiddle and a banjo any day!! The tempo and variety of instruments gets my toes tapping
Adele- her songs have so much emotion. Belting out one of her ballads at the top of my lungs is just plain cathartic. My daughter especially loves belting it out with me.
Dave Matthews Band- I love jam bands in general but seeing DMB solidified my love for them
Lake Street Dive- I love the jazzy bass lines and the smooth vocals.
Most classic rock- reminds me of my childhood. My dad used to put on Dark Side of the Moon at night to help me sleep.
6) What is the best advice you have given to new families?
Trust your instincts. Parenting is incredibly rewarding but it is also a pretty tough gig. You can feel pressure from family and friends to do things a specific way. Weigh the options and make the decision that you feel is best for your family.
7) What do you consider your doula superpower to be?
My sense of humor can ease tension and help women, and their birth partners, relax. I'm also upbeat and smiling is contagious 🙂
8) What is your favorite food?
Anything spicy, especially curries and Mexican dishes
9) What is your favorite place in West Michigan's Gold Coast?
Grand Rapids will always hold a special place in my heart. I love all the festivals, the sports teams, the museums, endless breweries and phenomenal restaurants. It has a small town feel with some big city perks and it is a short drive from the beautiful shores of Lake Michigan.
10) What are you reading now?
The Birth Partner.
11) Who are is your role model?
My grandmother, Eugenia Gould Huntoon. She will be 104 on April 24th and she is affectionately know as the Queen of Huntoon Harmony Hall and "The Longest Running Show Off Broadway."  She was in multiple theater and musical groups and even went on tour to local nursing homes to play piano and put on sing alongs. She leaves every room full of smiles and laughter. She has always encouraged me to do my best and follow my dreams. I like to think I get my optimism, sense of humor and love for bright colors from her but I certainly didn't get her musical talent or singing voice.