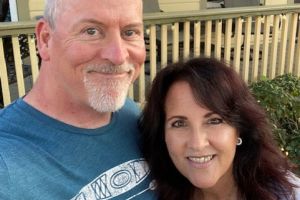 Meet our New Birth Doula, Annette!
What did you do before you became a doula?
I am an RN and have previous experience in many different clinical areas but of course my favorite was……Obstetrics!
What inspired you to become a doula?
I have always wanted to go back to my original love of Mother/Baby nursing but wasn't sure hospital nursing would be a good fit at this time of my life. My daughter in law invited me to be in for the delivery of her first baby and that got me thinking again. Originally, I thought I would wait until retirement and use that to fill my bucket. Then my husband said, "What are you waiting for?" I realized he was right. I needed this to be in my life again. I had doulas for my last two births and having been involved in the birth of my grandson I knew this is what I am supposed to be doing and now is the perfect time.
Tell us about your family.
We have a blended family. I have four children and my husband has three. They are all grown and thankfully we all enjoy hanging out together as often as possible. Five out of the seven live in the area so that makes for some wonderful family times. We also have 5 grandchildren (soon to be 6, and yes, I will be her doula!)
What is your favorite vacation spot and why? 
I've been fortunate to have traveled quite extensively and love it when more of the family can join us. Favorite is tricky! We are avid hikers and were able to hike in Sedona, Zion, and Bryce National Parks last year which was breathtakingly beautiful. Asheville is also a big family favorite, and we loved the Alaskan Cruise we recently enjoyed. We truly feel that we live in a very beautiful area of Michigan with some great opportunities to experience the outdoors, so we do that as often as possible. Just heading to the lakeshore for a hike fills my soul.
Name your top five bands/musicians and tell us what you love about them.
Maroon 5 – I enjoy their "older" songs more than the new. I don't tire of them. Vince Gill – smoothest voice around. Amy Grant – sweet music. Beach Boys – when it's a summer day and I'm relaxing with a happy heart.
What is the best advice you have given to new families?

Sleep when the baby sleeps! We all hear it and I know people said that to me when I was a first time Mom. It truly helps your body refresh and heal so you can give to your baby all that is needed.
What do you consider your doula/consultant superpower to be?

Hmmm, I would say being calm. I've always been told that I have a calming demeanor and soothing voice, so I think that lends itself to helping women in labor.
What is your favorite food?

I'm Italian and I love cooking so that's another tricky question! I love the summertime fresh fruits and vegetables from farm stands. That is the best time of year to create some wonderful meals!
What is your favorite place on West Michigan's Gold Coast?

Oh my, so many! I would probably say Grand Haven. Such a cute town, great boardwalk, fun shops, and yummy restaurants. The water views there can't be beat.
What are you reading now?

The Birth Partner – by Penny Simkin
Who are your role models?

I'd have to say my closest circle of friends and of course my family. We are all striving to be better humans and I love celebrating every little triumph.