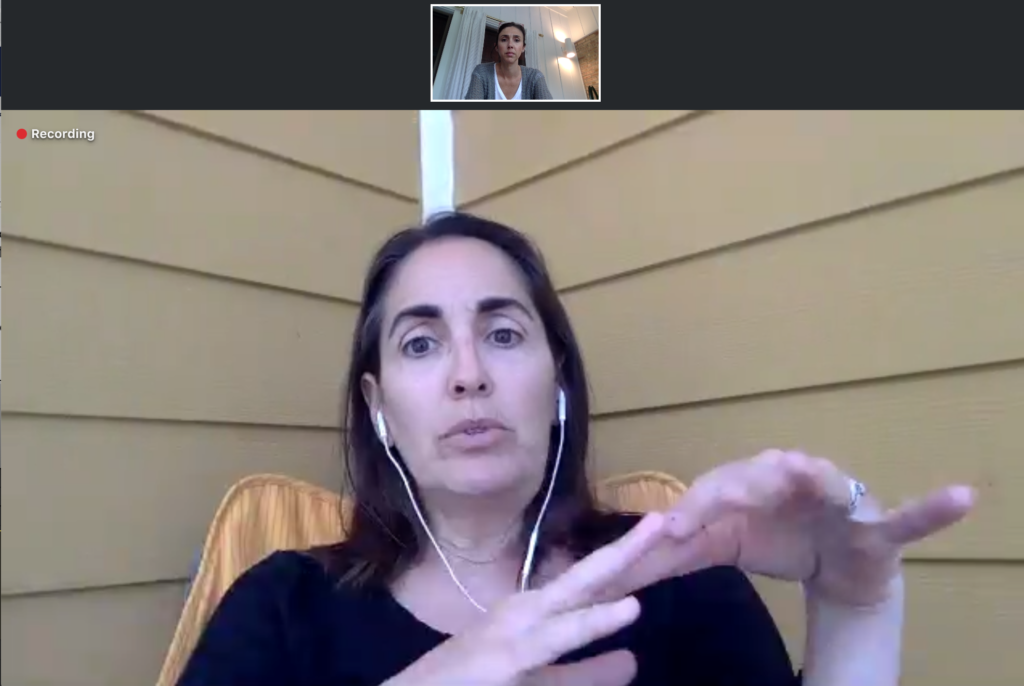 On this episode, Alyssa and Laine begin by talking about  parenting anxiety and the distance that parents can sometimes feel as their babies and children grow and seem to need them less.  The conversation takes some interesting turns to talk about having clear boundaries for kids, pivoting our expectations of children as they grow, and learning how to figure out who you are as a parent.  You can listen to this complete podcast episode on iTunes or SoundCloud.
Alyssa:  Hello.  Welcome to another episode of Ask the Doulas.  I am Alyssa Veneklase.  Super excited to be talking to Laine Lipsky again.  How are you?
Laine:  I'm good.  How are you doing?
Alyssa:  Good.  So we had a couple great podcasts, and I had an idea last week about another topic to talk about because I have a lot of clients who — so, they come to me and they want something specific, right?  They have a specific sleep goal.  Maybe that's to stop nursing to sleep.  Maybe it's to stop bed sharing.  It could be any number of things.  But when those things happen, they struggle with feeling distance from their child because now they're not cosleeping, and they're not nursing to sleep anymore.  So I just wonder, you know, from your end as a parenting coach, what kind of, I don't know, tips or tricks do you have, because it kind of seems like the classic motherhood scenario, right, where our babies are going to grow up and we always have these feelings of — I don't know.  It's almost like grief.  You're, like, grieving the loss of one stage of this child.  But, of course, we want them to grow up and we want them to become strong, independent little humans, but we grieve the loss of that, especially if maybe you're only having one child.  So, yeah, I just kind of — like, that was an idea I had.  So let's talk about it.
Laine:  Yeah.  It's such a good topic, and you're right, it does sort of permeate all phases of parenting, right?  Like, no matter how old your child is, you're going to be experiencing — you're moving through life and life stages, so there's going to be transitions, and transitions are — they have loss as part of them.  That's part of the deal of a transition.  You're starting something new.  You have to let go of something that you had before.  And I'm sure with the clients that you're talking about, when they're looking to move out of one sleep phase, it's because it's not working for them, right?  And they want to move into this new thing, but once they have the new thing, it's like this sort of romantic, you know, notion.  But there is this real separation thing, and I think that's where the pain point is.  It's interesting talking about it.  I think that what comes up for me when you first mention this topic was that I received a card when my son was born, and I think it's a — I don't know; maybe you've heard the phrase before, but it was something — I might get it a little wrong.  But it was something along the lines of, "Motherhood is the understanding — or the agreement, maybe — of having your heart walking around outside of you for the rest of your life."  Have you ever heard that one before?
Alyssa:  Yeah, I've heard that, and it's so true.
Laine:  Yeah!  So hopefully I didn't butcher that too badly.  But it is really like — it's such a good quote and concept because it really is, in a nutshell, saying about — this other person that's really a part of you and really needs you is going to be separate from you.  Right?  In different times of life.  And I think that, you know — I think that when — it's like a confusing time when you first have a baby because you're literally enmeshed with your baby, right, when you first take them home or you're an adoptive parent and they're first brought home.  They're so reliant on you and dependent on you for their survival, if you have an infant on your hands.  Right?  And it creates this — I mean, it creates this codependence, really.  It's like the ultimate enmeshment of a relationship.  And I have always seen motherhood, like early motherhood, as being like this accepted form of enmeshment, and then the process of it kind of tearing and tearing apart.  And that, I think, is the pain of it, is this process of separation.  I hear a lot from people that they get afraid of, like, oh, my child won't need me anymore.  And I think that — I mean, I think we all go through that.  I think we all have that fear of, like, being so needed and then not being needed.  It's like this overwhelming capacity of being needed and then flipping over to not needed anymore, and we get so identified with that need, that early need that our kids have for us.  I think we identify with it really strongly.  That's, like, an interesting place to start talking about it.
Alyssa:  Yeah, and it seems to happen so drastically.  So, you know, this infant needs you 100% of the time.  You're sustaining its life.  It needs you to live.  And then you have a toddler who still needs you quite a lot, and then all of a sudden, you have this young — you know, maybe at age 8, 9, 10 — they're just so independent that it just stops.  And I think that's what's really hard for, maybe especially us as mothers, is we go from, "Hey, Mom.  Hey, Mom.  Mommy, Mommy, Mommy," like all the time, to, "I go this."  So I think, you know, when my clients with their babies are going through this, it feels very severe, like it just happened so suddenly.  And they really struggle with that feeling of disconnection.  So I try to find, you know, what's a way that we can bring that feeling of connectedness back without getting you back to a place of sleeplessness.
Laine:  Yeah.  What comes up for me when we're talking about this is really the backing up in that process.  Like, even before somebody is lamenting the loss, right, like, it's almost like — when you lament losing something, when you grieve something, it's almost like I didn't get enough of it, or maybe I didn't do it — I didn't get enough out of it when we were going through it, and I'm not ready to let go of it yet.  And one practice that I feel really strongly about in parenting, and I think this applies here, too, is the concept of practicing mindfulness.  And one of my favorite definitions of mindfulness is actually savoring.  When you savor moments with your kids, what you are enjoying about each phase in the moment — I believe there is a natural sense, because I see it with parents and I know with myself, there's a sense of completion of a phase, and it's not as hard to let go of because you're not like, oh, I'm trying to grasp back to that.  So, for example, I remember — I remember actually sitting — it was with a friend and her toddler.  We were at a play date together, and the moms were sitting in one room, and the kids were supposedly playing in the other room.  And the toddler kept coming up to her and asking for her attention.  And she kept shooing him away, saying, go, this is your time to play with your friends.  Go play with your friends.  I mean, all he wanted to do was sit on her lap.  He didn't even — he wasn't even that demanding, right?  She kept shooing him away and shooing him away.  And finally she, like, couldn't fight the fight anymore, and she let him sit on her lap, and she was so much happier about it, and she was obviously so much more at peace.  And, you know, the other moms were sitting there, and I was like, you know, this time is going to pass so quickly.  Embrace this time that he's seeking your attention because before you know it, he's going to be off.  Peace out, Mom.  I don't need you anymore.  And that — I think that when we fight what's happening in the moment, we kind of lose out on getting our fill of it.  Does that make sense?
Alyssa:  Yeah.  I almost wonder if you hit the nail on the head there with my sleep clients, because let's say it's a two-year-old that I'm working with.  Maybe they — because of sleep deprivation, they feel like they've lost out on so many moments, because as we've talked about before, it inhibits your ability to parent, and then with a sleep-deprived child, they're not themselves, either.  So maybe they feel like these months or years of sleepless nights and dealing with a crying child and tired and screaming, they feel like they didn't get all those moments or get enough of those moments; that they're not ready when it does end.  I'm not sure.
Laine:  That's interesting.  There's also very intense bonding that happens.  I had a child who was not a good sleeper, and there's very intense bonding that happens at 3:00 a.m.  And it's like you love this being and you're there for this being and you're comforting them or you're trying to comfort them in whatever way, and it's so primal and it's so intense that I think there is a loss of that, like, bonding experience.  How are we going to bond?  If that's been our bonding up until now, as crappy as it was, as hard as it was, if we don't have that thing, how we do it now?  And I think that gets to more the real, like, heart of how do you interact with your child.  How do you interact with anybody when the problem has been defining the relationship, right?  Anybody, really.  Like, when you have a friend and, like, all you've been doing is, like, talking about what hasn't been working, let's just say, in your friendship, and then suddenly you resolve that thing.  It's like, wait.  Do we even know how to interact with each other?  Or like with parents whose kids then leave the house.  This whole — I know you're far away from this, but it does happen.  Kids do eventually, you know, leave the house.
Alyssa:  And then the parents are like, hmm, what do we talk about?
Laine:  Yeah.  Like, so I still like you?  Who are we without this thing, this elephant in the room?  Or not elephant; we're actually talking about it.  Maybe it's not the elephant.  And, like, I think that there's some fear there, and I also — which I get.  I get it.  How do I actually mother now?  If my child doesn't need me for this essential need, this basic physical thing of sleep — okay, so what are the other levels I can bond on?  Maybe it's the physical because it's about kissing them, you know, their boo-boos when they fall down.  It's about feeding them.  It's about making sure their diapers are clean or whatever.  I've got the physical thing.  But it starts to kind of move into this more emotional realm where I know for a fact that most people feel very uncomfortable.  How do I actually interact with my child?  Especially — I don't know if I told you this in one of our other podcasts, but it does bear repeating.  When I Googled how many people were raised in a dysfunctional home, do you know what the percentage was?
Alyssa:  I'm sure a lot higher than I think.
Laine:  It's staggering.  96%.  Some sort of dysfunction.  Not, like, fully crisis level, but some sort of — and the way that it was encapsulated, at least in the article that I read, was around the ability to talk about emotions.  The emotional functionality of families.  So maybe there's something going on.  I'm just riffing here, but maybe there's something going on.  If we're moving out of the physical realm, I don't know if I've got the chops to handle the emotional stuff that's coming.  I thought that maybe the physical piece of it is ending.  Maybe there's something there.  I think a lot of people get really nervous about, like, what else am I — if you've been nursing your child, if I'm not the nurser, then what do I have to offer here?
Alyssa:  Yeah.  It's like learning and relearning who you are and who your child is and then rebuilding that relationship, maybe even from the ground up, if that's all you've known for months.
Laine:  Yeah, or I would say more like pivoting.  Right?  Pivoting from being one thing; okay, now I'm this other thing.  Okay; now I'm going to be this other thing.  And that's a process that doesn't stop, right?  Like, my kids are 12 and 14 now, so, you know, you're the comforter when they're born, and then you're the playmate and the early teacher, and then you become the — you continue to be your child's teacher, but you keep pivoting as they grow, depending on what they need, and developing a sense of what is sort of normal levels of need and what the fair expectations are at each stage.  I think it's a really useful thing.  Like, I don't want my 14-year-old coming to me with every single issue that's going on.  You know, I want him to have some agency in the world, right?  So at this point I will, like, sometimes purposefully put him into an uncomfortable situation.  Like, you order the food for the family over the phone, or you make the appointment for the doctor.  That kind of thing.  And, again, he's older, but that's where we're headed with them, right, to teach them real-life skills.  But that doesn't mean he doesn't need me anymore.  It just means that it's like handing — it's like you have the reins, and then you slowly start handing the reins over to your child.  It's a process.
Alyssa:  Yeah.  I like the idea of pivoting.  Because it's true; at every age and stage from birth on, it's this constant shift of, now I have to do this for my child.  Now I don't need to do that, but guess what?  She has a new need.  She doesn't need this one anymore, but she needs me in this other way, and helping parents to understand that.
Laine:  Totally, and what sucks about it for parents is that just as you're getting good at one stage, those kids go on and they do something else, and you're like a rookie all over again.  Even if you're on your second or your third child, your second or third child isn't going to be exactly the same as your first or your second child.  It's like, I've never been a mom to — to my 12-year-old, I've never been a mom to a 12-year-old you before.  I've never been a mom to — even though I was a mom to a 12-year-old before, it wasn't to you.  Which is a very useful phrase for me to teach people to have in their back pocket.  You know, I've never done this part for you before, with you before.  And staying flexible and flexible-minded is the key to it, for me, anyway, and what I try to teach people.  Something else along the lines of mindfulness and savoring each stage is letting yourself grieve a little bit at each stage.  I think it's a really — like, what a useful practice.  You know, to recognize that this piece is ending and not try to talk yourself out of being sad a little bit.  You know, I think anytime we try to overshadow — did you see the movie Inside Out with your daughter?
Alyssa:  Yeah.  Oh, yeah.
Laine: I mean, really.  Such a good movie.  We just watched it again as a family the other night.  And it's just brilliant, right?  Anytime you try to overshadow sadness with joy, it just rings false.  And it doesn't hold the truth to it.  And so you asked me for tips and tricks.  One thing that I will share that I do around grief is I have a really simple candle lighting thing that I do, which is when I'm feeling grief about something — could be anything, but even parent-related — I just have a little candle that I light, and I say, like, I grieve this thing.  You know, I grieve the end of this stage.  I grieve that I didn't get to do this.  I grieve, you know, we're in Corona times right now, so I'm grieving that I don't get to see my friends, and honoring that grief because any time we try to convince ourselves and "joy" our way out of something, we're not going to get the full experience.  It won't be satisfying, and it won't feel authentic.  And as a parenting coach, I will say: our kids pick up on it.  Whenever we are acting from a place of inauthenticity, that's when they start to smell the blood and the fear in the water.  So they're going to start acting out more.  They're going to start — because they're reacting, not always entirely, but a lot of times, they are reacting to the energy, the emotion, that we are emitting, even if we're not saying it out loud.  They're feeling it, especially the young ones.  Like the kids of the parents that you mostly deal with — those kids are all about, you know, the limbic part of the brain, which is all that, like, mammal-kind of stuff, which is, like, I'm just going to feel how I'm feeling.  I'm not going to talk about how I'm feeling.  I'm not going to reason how I'm feeling.  I'm just going to be in the feeling 100%.  Right?  And so they pick up on — no matter what we're saying, no matter what our tone of voice is, they're going to pick up on what the feeling is.  And so we've got to get right with ourselves around it.  So I say welcome it.  Don't disrupt your sleep over it, right?  I mean, please.
Alyssa:  Right.  Just own it.  Do whatever you need to do, whether it's a candle or writing or a meditation.  But own it; leave it, and kind of move on, because it's true.  Even at a few months of age, these kids — you know, you've probably seen those studies where, based on a parent's face, how a baby will react.  And even just facial expressions can change how a baby feels and reacts.  So if you're stressed, they feel it.  They notice.
Laine:  They do, and I think as much as it's a good training ground for the infant to learn how they're reading our face, it's great training when our kids are infants for us as parents to be, like, I've got to get myself right around this.  Whatever this pain point is — it feels enormous because we're all emotional and we're all tired, and it's all very, very sensitive and raw and new.  But in retrospect, the infant issues are going to seem very small, you know?  And when your kids get older, they will seem very small.  So we want to use these moments when our kids are babies to train ourselves.  How am I going to get right about this feeling?  What are my practices around talking about this?  Who's my tribe?  Who are my trusted mentors?  What is my trusted source of information?  What are the practices that actually work for me?  You know, we're so vulnerable as new parents to taking in all the information that's out there.  It can get really overwhelming, like a tidal wave of information coming at us.  And it's such a great time to learn how to slow down and just be like, hmm, what feels right for me?  And that takes some work for most of us, you know?  We want to do everything right, but really, there's no — I've said this before.  There's no one right way to parent, but there's a right way for each of us, and we've got to find that way.  And the only way to do that is to get right with yourself.  So the other thing I was going to add in is that — you know, it's interesting, because when people talk to me about sleep stuff, they're often talking about their children — you probably hear this a lot, too — delaying the sleep by one tactic or another.  When they're a little older, right?  I need another drink of water.  I need another book.  I need another song.  I need another whatever.  And what I find is really helpful for parents to know is that for children, this is a time when most kids and parents are at odds, right?  Children are not wanting to separate.  They're looking for more connection.  But the parents are looking to separate because they need a break.  They want to connect with their partner if they've got one.  They're tired themselves.  They've got dishes; whatever's going on.  And so they become sort of at-odds, and so evening can become this really tense time, right?  And what I would — what came up for me as you were talking about your clients with this issue is, like, perhaps the parents are also experiencing some inner feelings about that separation.  Maybe they're experiencing it as a separation as well, you know?  And so with separation comes a little bit of anxiety, not just about what it means, but the actual act of separating.  So I never thought about it as, like, creating anxiety for the parent.  I've always thought about it from the child's perspective and thinking, like, well, this is — it's an anxious time for them, and the more you can settle in to helping them, the better it will go overall.  But maybe there's something going on there for them, too.
Alyssa:  I'm glad you mentioned that, the bedtime routine, because that's the one time I tell them, really focus on that time to bond with your child then.  So that means it's just you.  There's no phone.  There's no TV.  It's just you two, and you're not thinking about anything else.  You're focused.  Because 30 minutes, which is the perfect bedtime routine, so it doesn't — another drink, another book, another song – can turn into an hour or two easily.  So if you focus on trying to stick within 30 minutes, but 30 minutes of focused, dedicated time on your child is like hours to them.  So they're going to struggle at bedtime if you give them 30 minutes but it's half focused on them.  You're checking the phone; you're having them brush their teeth; you're helping another kid, and then you're telling them to go to the bathroom, and you're never focused on just them.  If you have older kids, stagger it, so that the youngest, you're putting to bed first, just them.  Then you do the next, and it's just them.  If you can dedicate that time to them, it's huge.  And then you can also feel — you know, even if you're not nursing to sleep anymore, just those cuddles and sweet kisses and songs, you know, and holding the little stuffed animal, that can be still such an amazing bonding experience before bed.  I think it just takes focus.
Laine:  It does, and mindfulness, too, like that savoring.  You're talking about exactly what I was mentioning before.  It's the same thing.  Take it in.  Smell their little clean head.  You know, like enjoy their breath before it get stinky, you know?  Give them a few years.  You're not going to want to do that.  Touch their skin; hold their hands.  That's all mindful practices which is, like, just take it in.  Breathe it in.  Which is really hard.  I just want to, like, give a shout-out to the parents out there whose kids, first of all, you know, bedtime is not a pleasant experience.  That's a very real thing.  And also a shout-out to the parents whose kids are not neurotypical.  So if you have a child who's really challenging who's, like, very strong-willed; a child who had a really hard time settling themselves down, and so bedtime routine is longer than that half-hour and it seems like the more attention you give them, the more they want, and the more they seem to crave — that is going to require something different on their part, too.  Because it's not — I mean, 30 minutes, I would say, is ideal, but, like, I've got a child who is not neurotypical, and I would have loved half an hour.  Trust me.  But, like, that was not in the cards.  And so, again, recognizing what your reality is and accepting that and identifying where it doesn't feel right.  Okay, I can make a tweak here.  Where it does feel right, I can embrace that part of it.  But really taking it all in and recognizing, like, this is your team.  You don't swap out kids.  If you're a coach on a team and you show up that year, these are your players.  You make the best of what you have, no matter who you have.  And everybody has their strengths, and everybody has their challenges.  I think that so often, parents whose kids require more, who demand more, start doing the, like, I wish it was this way, or so-and-so's kids are so much easier.  This would be so much better if.  And rather than that grass-is-always-greener kind of thinking — that's a real mindset shift that parents — that I do, I work with parents on all the time, of, like, who do we have?  Forget the ideal child.  Forget the ideal whatever; sleep routine or whatever.  We got to figure out what works for you.  You know?  And I think that a lot of — back to your original thought around, like, why — how parents grieve and the separation that they feel and the loss that they feel, you know, there's a lot of fantasy thinking around, oh, it was supposed to be this way, or I was supposed to be this way.  And it's like, you know, I have clients who have older kids, and they're like, you know, I really am sad that now things are this way.  Maybe they would have been different if I would have parented differently when they were younger.  I mean, it doesn't end, right, unless you end it.  Unless you end that kind of thinking, and you're like, you know what?  Starting today.  Starting right here, right now, this is how I'm going to do it differently, whatever that different thing is.  The only mistake I really call parents out on is doing the same thing again and again and expecting different results.  That's the only mistake that's really going to bite you in the butt.  Other than that, if you're trying different things, and you're being mindful about it, and you're being honest with yourself and getting really aligned with what feels good for you and lines up with your values — I mean, this is all — everyone's a rookie.  Everyone.
Alyssa:  I love every piece of this.
Laine:  I don't know that I have anything else to add.  I think that's a lot.  That's a lot of, like, essential, basic stuff.  You know, recognizing what you've got, leaning in to what's true for you, tuning out the noise, having trusted people in your huddle.  You know, there's a great body of information out there for parents right now and a lot of people delivering it and figuring out who's your person is really essential.  And I love how you talk about creating specific plans for people.  Like, parenting is not one size fits all.  You work with a body of information.  And sleep is not one size fits all, right?  You work with a body of information, and then you have to pick and choose what works for you.  And the more — I just think the more support you can get for getting more and more aligned with yourself — that is an approach.  That's not even a tactic.  That's, like, a strategy.  That's an approach for parenting that lasts a lifetime.  Because then no matter what, you're, like, I'm good here.  I'm going to try these different things.  You know, one of these things is going to — all of them are going to blow up in my face.  This one thing is going to work, but that doesn't mean — you know, that three minutes where I tried something new and it totally blew up in my face and my kid lost it — that doesn't define me as a parent.  Right?  Like, I am defined by what I — I call the shots in what defines me as a parent.  Nobody else gets to do that for me.  And the more we can operate from that place of strength and confidence, which most people lack because they end up saying things, doing things, that they swore up and down that they wouldn't say or do, but that's what comes out in moments of stress.  And parenting is stressful.  It's really stressful.  Our emotional back is put against the wall every day, most of the time.  Especially, again, shout out to parents who have kids who are not neurotypical or who are challenging.  You're going to get stuff blown back at you every day.  And so if you don't have your running shoes on, you're not going to be prepared to run that marathon.  I just want people to — like, if I had one dream for all parents, it would be, like, get right with yourself.  You know?  And then, like, the rest — the rest is going to flow how it's going to flow.  There are going to be bumps and turns and curves and sharp U-turns all along the way.  It doesn't end.  But the calmer you can be, the more centered you are as a parent, the better off the whole family is going to be.  And that extends from early infancy.  It's a great training ground, and all the sleep stuff and the feeding and all of that stuff to forever.  It's not easy.  This sounds really easy, like I'm saying things that make it sound really easy, like get right with yourself.  Okay, Laine.  What does that mean?  Done.  Check.  Right with myself.  No.  It's really, really hard.  And, again, that statistic of, like, how many of us grew up in some sort of dysfunction is real.  It's so real.  And so, you know, I always say about parenting: it's probably the most important job that any of us will ever have.  It's certainly the most important job I've ever had and ever plan to have.  It makes it really stressful.  It makes it really important.  I really care about it.  And I didn't get any training for it, except for how I was raised, and that's true for everybody.
Alyssa:  When you put it that way, it's pretty scary, when you think about it like that.
Laine:  How else could you think about?  I mean, put it in the context of playing tennis.  If you were taught how to play tennis, and then you were in a position to teach somebody else tennis, you can only teach them what you know.  Right?  I mean, so what would you do if you wanted to do it differently?  You'd get a coach.  You'd get help.  You'd get a consultant like you.  You would, like, start off learning how to do it differently so that you can give it to your children.  You can't give your kids what you yourself don't have, and I know for a fact that every person who I talk to about being a parent wants their kids to grow up to be a few things.  They want them to grow up to be successful.  Usually, actually, it's happy first.  I want them to be happy.  I want them to be successful.  And I want them to be independent.  And sometimes kind is thrown in there.  Usually it is, eventually.  But it's always happy, successful, and independent.  And what do you need to be those three things?  You need to have a sense of confidence.  And where do you get that from?  You know, well, you get it from your experience, and you get it from your parents.  And if you didn't get it from those things, then you go to therapy and you work it out, and you figure some stuff out, and you try to bring those things in as an adult.  But wouldn't it be a wonderful world if, you know, we could raise our kids who did not have to recover in one way or another from their own childhood and just grow up with this confidence.  And the only way we can do it is by giving it to ourselves first, which is awesome.
Alyssa:  Yeah.  It's great.  I mean, it's great relationship advice, and no matter what age, right?  I always say you can't be a good partner if you don't know what you yourself need and want.  But it's good training ground for children.  I've heard it before in the aspect of a partner, but it relates to being a parent.
Laine:  Yeah.  I always — there are a few things I say a lot, and one of the things that I say a lot is, you know, I teach parenting, but really, what I'm teaching is relationship, like human relationship skills.  It just happens to come out in full bloom with our kids because, you know, they bring it out in us.  They bring out all the stuff that's unhealed, that's unsettled, that's ungrounded.  You know what that feels like, when your child says something or does something that you're like, oh, no.  Oh, that's a no.  Right?  And you're so clear about it.  Like, that interaction with her goes away.  I don't know how it goes in your house.  It can go all sorts of ways.  It doesn't mean it goes any better.  You just know, no.  I'm not going to give in on that one.  Whereas when you're not clear, and you're like, well, I don't know.  It's, like, blood in the water.  You know, they smell it, and it's like they just feed off of the uncertainty, off the anxiety, and it makes them feel unsafe, too.  It really does.  It's like if you've ever driven over a bridge.  They have those guardrails there for a reason — for many reasons, but imagine driving over a bridge and it didn't have the guardrails up.  You'd be like, oh, my gosh.  I could totally take one little wrong turn and fall.  Boundaries are the same way with kids.  I know we're touching onto another topic here, but boundaries operate like that.  They keep kids feeling really safe.  And so when we know what our boundaries are, it makes our kids feel safer, too.  And so often we don't know, and so, again, this comes back to getting more and more clear about where we stand as people, as humans, as women, as mothers, as parents, whoever, before we start trying to impose boundaries on our kids because some of those are going to fall really flat.  And even with — I'm sure you bump against this with the sleep consulting, right?  Like, parents don't really know how they feel about it.
Alyssa:  Yeah.  I mean, especially with the older ones.  You know, what are your boundaries?  And you do; you find out these kids are just trying and pulling all the tricks because they don't — some days it's yes.  Some days, it's no.  Some days, they let them cry.  Some days, they let them stay up.  Some days, he sleeps on the sofa.  Some days, he sleeps in their bed.  One night, he'll sleep in his room.  It's just that there's just no — zero boundaries, usually, so you just kind of have to slowly rein them in.  But yeah, in that instance, I am coaching the parents more than the child because they have to decide.  And I ask them: what are your goals, and what do you want your boundaries to be, because you both have to stick with it.  It's a two-parent home.  You both have to agree, and you have to be consistent 100% of the time.  Because like you said, blood in the water.  They sense that Mom will do one thing, but Dad will do another, and they're like, okay, I've got you.  I know what I can get from both of you.  So, yeah, consistency is key, too.
Laine:  Yeah, I was going to add, it can be that.  It can be that I can get away with this, right?  Certainly, when they're older, I can get away with this.  They're more conscious of it.  But I caution parents against thinking that way because then they get resentful of their kids for trying to take advantage of them, and I think, coming from where I sit from a boundary perspective, I actually think that kids are looking to find out where the boundaries are by testing those limits because they want to feel safe.  They want to know what the boundaries are.  So they're not doing it — I'm just flipping what you're saying a little bit — not doing it to get away with something.  They're doing it to find out where the edge is because they're actually not feeling safe about it.  Do you know what I mean?
Alyssa:  Yeah.  No, I like that.
Laine:  I think that makes parents feel a lot better and more confident to set a boundary when they're like, no, this is actually going to feel good.  It might not feel great at the beginning, but it will feel better for everybody when they know what the rules are.
Alyssa:  Yeah, and I think you said it better than I did, but I tell parents that if you have different styles, absolutely fine.  Your boundary might be a little bit different than your partner's.  As long as your child knows that there are boundaries, and there's got to be a little bit of give, but your boundary can't be here and your partner's boundary can't be here because then there will be fighting.  So a little bit of wiggle room, but I like that: making them understand that their child wants and needs these boundaries, and they're not just testing them to be, you know, malicious or cunning or conniving.  They just — at all ages, right, they want to know what they can get away with.
Laine:  And they want to know where the edges are.  They want to know where they're going to be safe.  It's like the rails on the bridge.  It feels very unsafe to not have those rails up, even if they don't like it.  If they seem to not like it on the surface, kids do better — research tells us again and again that kids who do better in life are kids who grew up with boundaries.  You know, not enforced in some militant kind of way, but fairly enforced boundaries that are clear; clear rules.  And very few kids, very very few, can operate without clear rules and kind of figure them out on their own.  It's kind of an unfair ask of kids to figure that out.  It's really on us.  Part of the deal with parenting.  So to your parents who are feeling a loss over not bed sharing anymore, I would add this, as maybe a good place to wind down: what are the rituals that they can put in place to make, like you suggested, bedtime really meaningful, and also wake-up time; the reunion time.  People put a lot of emphasis on the separation; like, oh, we're going to have this sweet goodbye.  Even if a parent is traveling, right?  We're going to do this when they leave; we're going to do that when they leave.  And there's so much anxiety around the separation, for kids especially, and like I said, sometimes with parents.  But if we flip it and we start focusing on, what are we going to do around the reunion time, it is actually something to look forward to.  And you don't even have to talk about it very much with little kids.  You just start doing it.  That's the beauty when they're little.  You just start doing stuff and try it out.  How does it feel when you walk into the room after a night of being separate?  Check your own emotional baggage at the door.  Leave it.  Like, that was hard for me, but you walk in and you're like, maybe there's a special song you sing in the morning.  Maybe there's a special dance you do while you're lifting up the shades.  I mean, it could be anything.  It doesn't matter what it is.  It matters how it's done.  So rituals are so powerful for kids, and it's something that is really soothing in them developing a rhythm in their life and in their heart and helping their brain develop a sense of safety and the sense of connection and that, you know, awareness for a parent can help put their minds at ease, as well.  Like, oh, I'm looking at how happy she is when she's waking up, you know, and like really focusing on that reunion part.  But, again, not to diminish the sadness.  And then once you — having inner sadness, it's kind of like having a child who's really demanding your attention, like that mom I talked about at the playgroup, you know.  Once you let that sadness in, you let that child who's demanding your attention on your lap, and you kind of welcome it and embrace it, it kind of loses its power.  So perhaps all the sadness around the grief is actually the fighting the grief, and if we welcome it — if they learn how to welcome it, they'll feel more at peace about it and be able to let it go a little more easily.
Alyssa:  I love all this so much.  I'm going to be referencing this podcast to a lot of clients, I think.
Laine:  Well, excellent.  And, you know, I'm here for them.  I'm happy to help out however I can.
Alyssa:  Tell them how to reach you, and then I'll tell your people how to reach me.
Laine:  Sounds good!  Probably the best way to find out more about me and to reach me is to just go to my website.  And how can my people reach you when they need a guru for their sleep needs?
Alyssa:  At our website, and then there's a section for sleep.  And we have a blog listing on there, too, with a lot of stuff about sleep and anything pregnancy, birth, and parenting-related.  And then this podcast is called Ask The Doulas.
Laine:  Perfect.