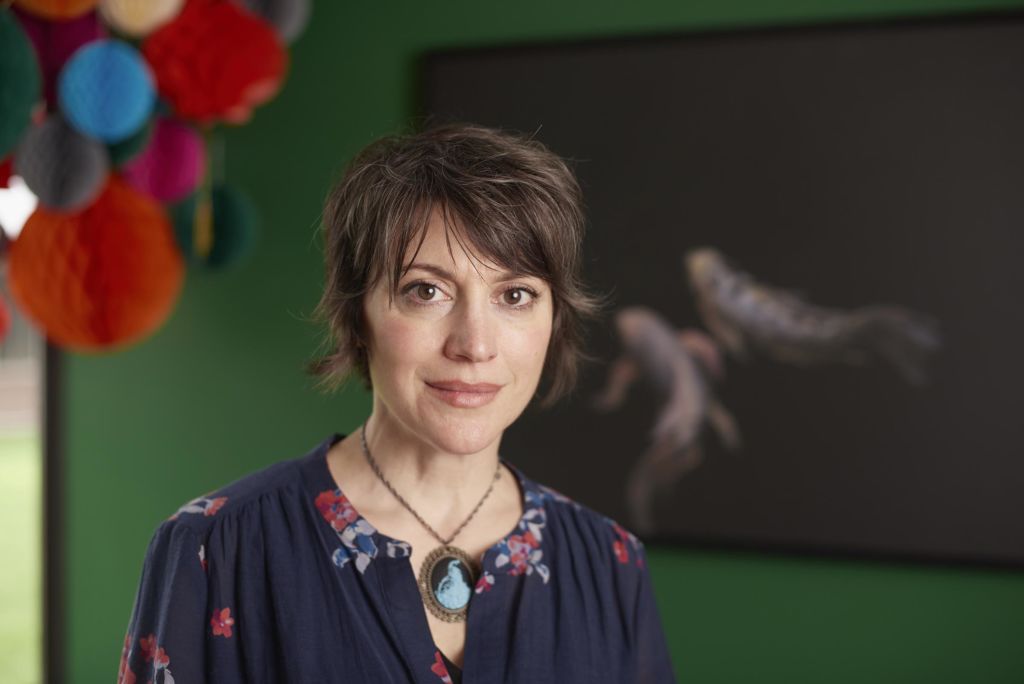 Today Kristin talks to Vikki Nestico, R.Ac of Grand Wellness Acupuncture.  We learn a lot about fertility and how acupuncture supports the nervous system, reduces stress, and increases blood flow to the reproductive organs.  You can listen to this complete podcast episode on iTunes or SoundCloud.
Kristin:  Hi, Vikki!
Vikki:  Hi, how are you?
Kristin:  I'm good.  Good morning!
Vikki:  Good morning.
Kristin:  Welcome to Ask the Doulas with Gold Coast Doulas.  I'm Kristin, and I'm here today with Vikki from Grand Wellness to talk about fertility and acupuncture.  So welcome, Vikki!
Vikki:  Thanks, Kristin!  It's good to be here.
Kristin:  So tell us about yourself before we begin.
Vikki:  Well, I am an acupuncturist, and I own a holistic care clinic here in Grand Rapids called Grand Wellness.  And we've been here for about six years.  So it's been wonderful being here.  Previously, I had moved here from New York City where acupuncture is used very often, and so moving here, it's been wonderful to see it growing and holistic health in general just growing every year by leaps and bounds.  So it's been really wonderful.
Kristin:  And I think we met when you first moved to Michigan through a mutual friend.
Vikki:  Yes.  Absolutely, yes.  That was quite a while ago.
Kristin:  Yes.  It sure was!  We're glad to have you here, and I love seeing how well your practice is doing.
Vikki:  Thank you!  Yeah, so we work with a lot of different conditions here at the office, but, you know, a group that I really enjoy working with are couples who are trying to conceive.  It's very rewarding to work with these women and men who are trying to conceive naturally or maybe they're using IVF or anywhere in between.
Kristin:  Sure.  Take us through the process of how a couple would work with you as they're trying to conceive, whether they're using natural methods only or if they are going through a fertility center, for example, and want a mix of holistic and medicine.
Vikki:  Yeah.  So we really meet each couple or mother at whatever place they're at.  So, you know, optimally, you know, as soon as they have a little glimmer in their heart that they would like to start a family, that's when we love to start seeing them.  But that doesn't always work out.  A lot of times, we — and we see people after they've been trying for a while.  We see probably our greatest group of couples when they're working with a fertility clinic.  So we do a lot of work with the local fertility clinic here.  I think they know our smiling faces over there.  But we really meet them where they're at, and we're able to help in all aspects of preparing both the women as well as the men, and I think that working with men is an aspect of fertility that people don't think about.
Kristin:  I'd love to hear more about that!  Do you work with the man surrounding his emotions or just basically to repair him biologically?
Vikki:  I guess the easiest way to explain is to really explain how acupuncture works in the body.  There's a couple different ways to look at it.  There's through the eyes of Chinese medicine, and then there's through the eyes of our scientific knowledge, right, of how the body works.  So I'll sort of walk you through, maybe, the scientific knowledge, since that's what most people think of when they're trying to figure out what's going on with their fertility.  So acupuncture really is great at calming the nervous system, balancing hormones, and increasing blood flow.  Blood flow, blood flow, blood flow.  I can't say it enough when people come in for treatment.  And the reason that acupuncture can help and is so helpful is because, first off, if we look at just increasing the blood flow, we're focused on having that blood flow reach the reproductive organs.  And so in that way, we're looking at it to improve the function of the ovaries, to nourish and help grow these healthy, ready eggs, to send more blood to the uterus to create this thick and healthy lining.  And those aspects are, you know, obviously extremely important when we're looking at ease of getting pregnant.  Another way that acupuncture helps is by reducing stress, and I'm sure you've heard it a million times, right?  Stress can really cause a lot of problems for us across the board, but when we're looking specifically at fertility, it's easy to see how it can cause a problem.  I always explain stress by using my little prehistoric story of a woman.  She's sort of walking down the street, and this saber tooth tiger jumps in her path.  And at that moment, her body clicks, the sympathetic nervous system.  And all the blood and all the energy in her body is getting out to the muscles so she can run fast, so she can be strong.  To her eyes, so she can see.  Opening the ability to bring in more oxygen, to breathe more, to be fast.  And that's great in that situation, but at that time, the blood is not in your reproductive organs because it's not necessary there.  And so nowadays, we're in this time where we're overloaded by work.  We're overloaded with family obligations.  And so we have this ongoing chronic stress that can be overreacted to by our bodies.  So our reproductive organs just aren't thriving in that environment.  So having acupuncture be able to click us back into that parasympathetic nervous system, where we breathe, where we get more blood to our organs and can really focus on healing our body and nourishing eggs and all of those things – it's extremely important.  And especially when people are trying to get pregnant, they add that much stress because they're always stressed about whether they're pregnant.
Kristin:  Yeah, and for our clients who started out their journey with The Fertility Center, there's a lot of stress with that, or clients who had loss in the past and their worry about experiencing loss again.  I can see how emotionally it would be great in preparation.  Our clients who had an easy time getting pregnant the first time and then struggle with secondary, and they come to me wanting resources and help, and I do bring up acupuncture, but I'm learning so much with you today about the whole process and the benefits.  It seems like even if it's years away that preparing their bodies well in advance would be beneficial for couples.
Vikki:  Absolutely.  And even when we look at males in this way, they're doing research, and there's research out there showing, that stress can reduce the amount of sperm, healthy sperm, that a male has.  It can alter the shape and reduce its ability to be a great swimmer and all the things we need to make sure we're making some good quality and in some cases quantity, depending on what we're working with, embryos.  So really important for males to be in on that.  And I say this to all of my women that come in: a third of fertility difficulties lie with the man.  And I don't think we as women always understand how high that number is.
Kristin:  A lot higher than what many women think.  It's surprising.
Vikki:  In fact, I think that what the research states is about a third of difficulties are on the female side, a third are on the male side, and then a third are somewhere in between.
Kristin:  Interesting.
Vikki:  Very interesting.  And I think we take on the burden as women that it must be ours.  And many men just assume it's a problem, you know, with the female side.  So it's great to know that men can really help out and be a part of increasing success.  A couple other things that acupuncture is great for, especially when we're working with IVF, is it can prevent uterine contractions.  So the way that we work with the nervous system, we can calm that nervous system, which connects to that smooth muscle tissue, and — yeah, so when we do embryo transfers — or when we work before and after embryo transfers — the after treatments really are focused on eliminating uterine contractions as much as possible, and that really helps to have successful implantation.
Kristin:  So if any of our listeners or clients have yet to experience acupuncture, can you describe what a fertility session would be like and how many visits a male and female client would have?  I don't know if you work with the partner in a certain number of sessions ideally and then the expecting person?  Is it different as far as the number of sessions or what that would look like?
Vikki:  Ultimately, we like to work with them on a course of 12 treatments, and it's not an arbitrary number.  Three months of acupuncture helps to create good healthy eggs and is about the time of how long it takes to regenerate sperm.  So it takes about 90 days for this egg to mature to be ovulated.  And so we can get to working with the woman right away.  We can get more blood flow.  Inside that blood is all these nutrients to really impact the health of that egg and, equally, the health of the sperm.  And so that's why optimally we're looking at three months, though I will always say to my clients, three to six months because we want to make sure we're working over, you know, a couple of cycles in that capacity with healthy eggs.
Kristin:  That makes sense.  And would that be a session a week?  An hour long session?  What would that look like?
Vikki:  So all the sessions are an hour long.  The first one is usually longer, so probably about 90 minutes, because we do a pretty lengthy intake, lengthier than if you went to the doctor.  We ask a lot of questions, and a lot of the questions, people can't possibly understand how they would connect with their reproductive strength, but we look at the whole body.  And so we're using a tongue diagnosis, pulse diagnosis.  If somebody brings in their BBT charting because they've been charting their basal body temperature, we use that information.  And we put together this story.  You know, where does the imbalance lie?  And we work to change that as well as helping to just move that blood to where it needs to go.  And so they're about an hour after the first one, and we like to do them once a week.
Kristin:  And I know you have a male acupuncturist, as well, for those who prefer.
Vikki:  Absolutely.
Kristin:  So that's a great option.  And do you treat — do you ever do dual sessions, since you have multiple acupuncturists?
Vikki:  We'll do them at the same time.  We can book people at the same time.  We don't do them in the same room.  For the session itself, you know, people come in and we talk.  We assess.  And I put together my point prescription, choosing the acupuncture points that I'm going to use.  And it seems like it wouldn't be extremely gentle, but it actually is.  I mean, ultimately, my goal is for people just to feel very relaxed.  I treat a lot of people that are very afraid of needles, and they're always happy when they're done that they came to treatment because it's very relaxing.  Many have gotten over their fear of needles.  It's nothing like going and having a blood draw.
Kristin:  Right.  I would agree.  I just had a session a couple weeks ago, and I wasn't sure what to expect.  It was very relaxing!  I enjoyed it.
Vikki:  It's a great way to be treated, right?  To walk out and be like, ah, the relief, the relaxation.  It leaves us feeing very balanced.
Kristin:  Agreed, yeah.  And I can see how some people would, with a fear of needles, would have a challenge, but if they're going through traditional fertility methods, they're dealing with needles in a different way.
Vikki:  Absolutely.
Kristin:  So maybe that could help their fear.
Vikki:  You know, it does.  And it's funny because I've had clients who don't have the support, maybe, to do some of those needling, and so while I can't do any of that, the needling from the fertility clinic for them, sometimes I'll sit and I'll just support them and just be, like, you're doing good.  You're doing good.  So we'll do a treatment before, and then they get that support.  You know, we really help our clients wherever they are with whatever tools we have.
Kristin:  I love it.  So how do our listeners find you?
Vikki:  We have a great website.  It has a lot of information on it, and they can make an appointment on there.  They can also call.  I always do — so does Corey.  We do complimentary consultations, you know, just so people can really talk, because everyone is approaching this from a different place.  And sometimes the need to just check it out and say, you know, is this right for me, is important.  And so we always love people to have the option to really talk to us, so see how they connect with us, and to ask their questions before treatment starts.
Kristin:  Thanks for being on!  Do you have any parting words for our listeners who are struggling with fertility?
Vikki:  You know, I think it's important to remember — and I say this to all of my clients — that when you're told or see that infertility is your condition, that it's not a word we use here because my clients aren't necessarily unable to conceive.  They just haven't conceived yet.  And I think it's really important for us to keep that in mind because our nervous system, our brain, our heart, really can make change in many different ways in our body.  So coming at it knowing that we can do this, you know, and your body can do this, is a great way to approach your future.
Kristin:  I love it.  Words matter.  We believe that with HypnoBirthing.  Just changing the language and the imagery can make a big difference in getting the fear out.
Vikki:  Absolutely, and to know you're supported.
Kristin:  Exactly.  You're talking some doula language there, about just telling them that they're doing great and being there emotionally as a support person.  So it's great to have a big team supporting you, especially during this time of uncertainty with coronavirus.  I love that you're a great resource for our families and listeners.
Vikki:  And we also offer — we have a couple of conditions that we know are big struggles, and we like to treat people for a certain amount of time.  Because of that, we have some programs that we do offer, and fertility is one of those programs.  So on our website under programs, you can see the different programs we put together to give a little financial help to those going through this struggle to make it a little bit easier.
Kristin:  That's wonderful.  And I know you do take most health savings and flex spending; is that correct?
Vikki:  We can give receipts, and it really depends on if your health savings and flex spending covers acupuncture.  But if it does, yes.  And more insurance companies are starting to cover acupuncture, but it really depends on if they cover it and what they cover it for.  But we're happy to give super bills to everyone and anyone so they can, you know, get reimbursement if that's applicable with their insurance.
Kristin:  Thank you!  It was great to chat with you today, Vikki, and we'll have you on in the future to talk more about pregnancy and acupuncture.
Vikki:  Fabulous!  That would be wonderful.  Thank you for having me!