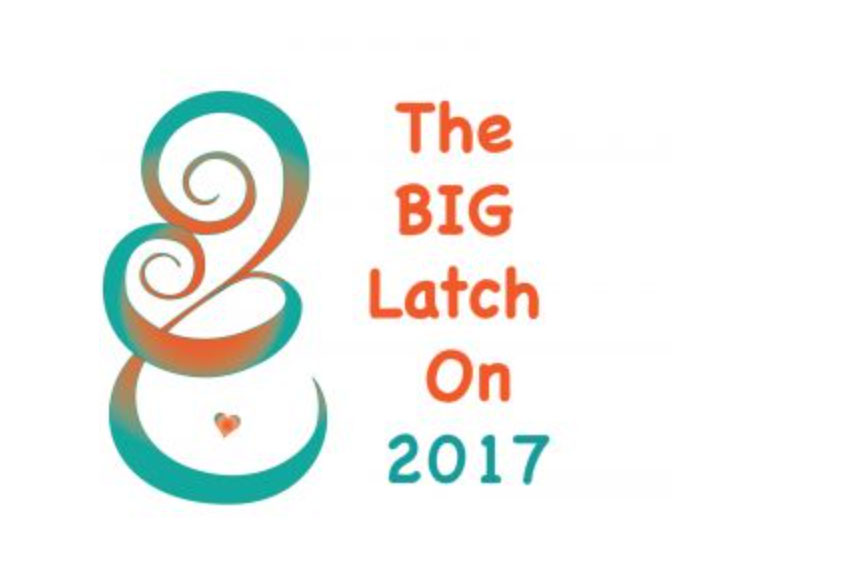 World breastfeeding week is coming up! Why do we care?  
Each year, World Breastfeeding Week presents many opportunities to celebrate and promote breastfeeding. From August 1-7, this global movement strives to support breastfeeding by cultivating awareness and cooperation within and between communities worldwide. One big way we come together during World Breastfeeding week is with The Global Big Latch On.
The Big Latch On: 
The Global Big Latch On was started in 2010, and has since taken place annually during World Breastfeeding Week every August. Big Latch On events are held in communities throughout the world, with the shared goal to protect, promote & support families, strengthen support for breastfeeding, and improve the health of children and women around the world.
The Global Big Latch On reports that these events are "community initiatives that raise awareness of breastfeeding, encourage the formation of support networks between breastfeeding persons, and aim to normalize breastfeeding as a part of daily life".
What to expect when you attend a Big Latch On Event:
Families with breastfeeding children (this includes all forms of providing breastmilk, including pumped milk, supplemental nursing systems, etc.) gather together to show support for our breastfeeding community, and to be counted for the Global Big Latch On count – where we strive to break the record numbers that were set the previous year. When you arrive you'll be asked to sign in, get comfortable, and then at the same time, all the nursing babies/kids at each event location will be instructed to "latch on" (or otherwise demonstrate their means of receiving breastmilk), the organizers will count each participant, and send those numbers in to The Global Big Latch On headquarters be tallied with the numbers from other events all over the world.
Often there are snacks provided, fun giveaways, and an opportunity to connect with other families as well as some local family-friendly businesses and services.
Since 2010, attendance to these events has skyrocketed. In 2010 there were 147 total locations with ~2,000 babies counted. Just 6 years later in 2016, there were 758 locations in 21 countries, with nearly 18,000 nursing babies/children counted! Last year in Grand Rapids we had 45 nursing babies. We're sure 2017 is going to be even bigger. Come help us break some records!
More information is available here.
With events planned for all around the world, including multiple locations in Michigan, we excitedly prepare to come together in Grand Rapids at our own local Big Latch On Event on Saturday, August 5th 10:00am-11:30am at Briggs Park in NE Grand Rapids. Make sure to sign in before 10:30am to be counted! Bring your picnic blanket and get comfy, mingle with other families, or just come to show your support.
Global Big Latch On objectives:
Provide support for communities to identify and grow opportunities to provide ongoing breastfeeding support and promotion in local communities.
Raise awareness of breastfeeding support and knowledge available locally and globally.
Help communities positively support breastfeeding in public places.
Make breastfeeding as normal part of day-to-day life at a local community level.
Increase support for women who breastfeed – women are supported by their partners, family and their communities.
Ensure communities have the resources to advocate for coordinated appropriate and accessible breastfeeding support services.
Other related World Breastfeeding Week Celebrations include Express Yourself (for all those women who provide breast milk to their child/children without latching them and those that donate milk either formally or informally) and Selfies Sunday (a count of all breastfeeding or expressing selfies posted on Sunday, August 6th with the hashtag #mybiglatchon).
Why is this important? Why do we participate?
Breastfeeding around the world deserves recognition and celebration! Some people don't understand the hype around breastfeeding promotion. After all, we each have the right to feed how we choose; why all the attention for breastfeeding? Well, while I agree that parents should never be bullied or shamed about their feeding choices, I believe (and research consistently supports) that most parents, to varying degrees, want to breastfeed. We know this because the vast majority of families in the United States start off breastfeeding, or at least make an effort to. But despite this obvious desire to provide breastmilk, there remains a wide discrepancy between what is recommended, parents' reported goals, and what is actually being done.
And we know that breastmilk is not only valuable to individuals for optimal nutrition, immune properties, and more, but many don't realize how much breastfeeding is also an important and growing public health issue, as breastfeeding is associated with lower rates of obesity, diabetes, and many other health concerns that extend beyond infancy.
In the United States, breastfeeding initiation rates are quite high (80-90+% in many states), but quickly decline within the first 3 months (despite recommendations by both the World Health Organization and the American Academy of Pediatrics to provide breastmilk exclusively for 6 months).
We are not meeting our national breastfeeding goals, and in many cases not our individual goals either. Reasons for this vary from family to family, but three big ones are:
Lack of breastfeeding education: Lack of understanding about normal breastfed baby behavior, lack of understanding about how breastmilk production works, lack of information and resources for troubleshooting issues when challenges do arise.
Studies suggest that more than 90% of breastfeeding moms report having struggled or encountered a challenge during the early weeks of breastfeeding. This statistic isn't intended to be discouraging, but rather to normalize the experience of struggling to breastfeed, to say, "just because you experience a problem doesn't mean breastfeeding isn't right for you or isn't going to work for you". Often it's just a matter of having access to good information and support to get through the rough patches.
Going back to work or school: Poor maternity leave rights and lack of options put most U.S. women in a position to return to work in the early months of life, often sooner than they may want to, which can disrupt the breastfeeding relationship.
Lack of community support: Breastfeeding in the U.S. has been on the rise since the early 1990s, but we still don't have a deep breastfeeding culture. Formula-feeding is still very much a cultural norm in many parts of the country. We no longer live in villages with extended family and other parents caring for babies in community. We suffer from a deficit of breastfeeding normalization, meaning most of us in the U.S. don't experience many opportunities to witness, watch and learn from other breastfeeding moms when we are young. Many modern parents enter their own breastfeeding relationships in relative isolation, with little understanding of breastfeeding norms, and oftentimes less than adequate support to meet their own goals.
In many parts of the world, including the United States, breastfeeding can really benefit from more attention and support.
2017 marks World Breastfeeding Week's 25th year. This year's theme is about working together for the common good! Working together to "call on advocates and activists, attract political support, media attention, participation of young people and widen the pool of celebrants and supporters".
Let's come together in West Michigan to support one another, support healthy babies, and strengthen our breastfeeding community locally and globally!
Author: Shira Johnson, IBCLC
SaveSave
SaveSave