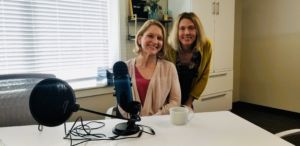 Supporting a Postpartum Mother: Podcast Episode #79
Elsa Lockman, LMSW of Mindful Counseling talks to us today about how partners, family members, and other caregivers can support a mother during those critical postpartum weeks to ensure she seeks help if needed.  How do you approach a new mother and what are her best options for care?  You can listen to this complete podcast episode on iTunes or SoundCloud.
Kristin:  Welcome to Ask the Doulas with Gold Coast Doulas.  I'm Kristin, and I'm here today with Elsa Lockman.  She's with Mindful Counseling, and we are talking about how partners and other caregivers and family members can support a woman who has potential signs of postpartum depression or mood disorders.
Elsa:  Yes.  So postpartum is going to be an emotional time, so tears, some anger, sadness, are all part of the experience.  After about two to three weeks out, if spouse or a friend or a mother is noticing maybe a mom is crying more than usual, isn't really looking forward to things, has these unusual fears that they can't seem to let go of.  Another sign would be not seeming to eat very much or either sleeping a lot or not being able to sleep when the baby is sleeping.  If they're noticing those signs, it would maybe be a sign that they could go talk to somebody as far as a therapist or go see their doctor.  Approaching Mom would be in a way to not criticize mom as if she's doing anything wrong.  She's not doing anything wrong, so start off with validating, actually.  She's doing a great job with how hard it is; validate how hard she's working, and try to tell her that it doesn't have to be this way.  She doesn't have to do it alone.
Kristin:  How does the caregiver know if it is baby blues or if it's something that she needs help for?  Because, of course, there can be that hormonal fluctuation.  They may be teary.
Elsa:  Baby blues usually stops after three weeks postpartum.  So after that would be maybe a sign that there's more going on.  But I would say, is it getting it the way of functioning?  Is it getting in the way of relationships?  Is it getting in the way of their working in the home or outside of the home, getting those things done?  To a degree, that is expected postpartum; not everything running smoothly, but are relationships being affected?  Those would be signs that it's more than just baby blues.
Kristin:  How can a spouse, partner, or caregiver be supportive in order to empower her to get help?  Is it best for them to directly reach out for help for her if they're seeing signs, or what do you recommend?
Elsa:  I recommend the mom reaching out, so that would be encouraging Mom to reach out herself.  And maybe she needs to talk to a friend and have more time with friends or more time to herself; maybe that would help.  See how that works.  If that seems to help and is enough to alleviate whatever stress is going on, then that works, but maybe if it's not working, then take it to another level, which would be contacting a therapist or your doctor.
Kristin:  And since, obviously, women have multiple doctors — they're seeing their OB or midwife and family doctor and their pediatrician — does it matter who they're speaking with about getting help?
Elsa:  No, it wouldn't matter who you see.  Usually the OB would be the person that they've seen most recently, but they can even bring it up to the pediatrician, since moms see the pediatrician very often.
Kristin:  And as far as getting help for our local listeners and clients, they can reach out to you directly?  How do they access you at Mindful Counseling, Elsa?
Elsa:  They can go to the website, and they can contact me through there.  Another resource would be Pine Rest, and through your OB's office, there also is a list of therapists who specialize in perinatal mood disorders, which includes postpartum depression and anxiety.
Kristin:  That's so helpful.  And in past conversations, you had mentioned that women can bring their babies to therapy; that you allow that with clients you're working with, and I know Pine Rest encourages that with their mother-baby program?
Elsa:  Yes, for sure.  Bring your baby to the session; you can feed the baby, breastfeed, anything.  Coming with your baby is welcomed and encouraged, for sure.
Kristin:  Do you have any final thoughts or tips to share?
Elsa:  Just that it doesn't have to be going through this alone.  It's very normalized for women to feel that anxiety is just part of the postpartum experience or feeling depressed and stressed is part of it, and while it might be a new phase and there's a lot going on, it doesn't have to be that women are just suffering through it.
Kristin:  Great point.  Thanks so much, Elsa, for being on!