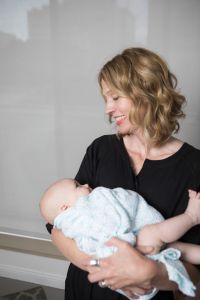 Podcast Episode #8: Kristin's Experience with the NICU
In this episode of Ask the Doulas, Kristin shares her experiences with the NICU when her daughter was born.  You can listen to this complete interview on iTunes.
Alyssa:            Hi, welcome back to another episode of Ask the Doulas with Gold Coast Doulas.  I am Alyssa, and we are talking to my partner Kristin today.
Kristin:           Hello, I'm Kristen, and I'm a birth and postpartum doula at Gold Coast.
Alyssa:            When we talked to Kristin earlier, we found out about your birth story, and during that time, you had said your daughter Abby when she was born spent four days in the NICU.  So can you expand on what it felt like as a parent to have a baby – you know, after a kind of traumatic birth experience, and then you don't get to bring that baby home right away.  How does that feel?
Kristin:           Yeah, and again, those of you that heard my birth story, it was traumatic in some ways, and then I had preeclampsia, but very redemptive in that I was able to have an unmedicated birth with very few interventions with the preeclampsia, which is pretty rare.  And after I had Abby, it was very standard.  I was able to do skin-to-skin and breastfeed, but they did some testing and found that she had glucose issues, and so then it led to her getting transferred to the NICU, and we were fortunate in that the DeVos Children's Hospital had literally just opened.  And they had the really-preemie babies in there, and they had the regular ICU that we started out in, which was overcrowded and there were parents standing everywhere, and I was trying to nurse and hold my baby.  And they somehow ended up transferring us to the Helen DeVos Children's Hospital where we had our own private room and more individualized nurse attention, and I had a rocker and I could hold Abby and nurse her there.  So we got to experience those amenities which now as a doula has served me very well.  And so that was really fabulous, but because of her glucose issues, our pediatrician had recommended that she start with an IV and then it led to, once she got off of that, she was on enhanced formula.  And I was pumping the entire time, so we would spend time with her, and then I would go back to my room to pump, and my husband would stay with her.  And I was pumping without a baby in my room, which obviously you never imagine that you have your child and then they aren't actually in the room with you.  So that was overwhelming because I kept getting all of these people coming in to help me, like say, okay, you've got photographers that want to take your picture with your baby.  Well, my baby's not there when I'm in there pumping.  The lactation consultants come in, and my baby's not there, so they're helping me with pumping, and that's about it.  So I'm going back and forth, and even though again I had what's considered a natural birth, I was in a wheelchair because it was one end of the hospital to the other.  So I was getting dizzy trying to walk all of that way myself, so I was overwhelmed by a lot of things.  And the pumping was overwhelming.  So again the heel pricks constantly were hard on me as a mom to see her get poked so many times and cry, and all of the cords and everything that's involved in a NICU stay is overwhelming.  Everything beeps all of the time.  You can't really fully hold your child.  And everything was timed when I was eventually able to attempt nursing with her.  So once she got off the formula, I was able to spend about ten minutes, because everything was very timed out in the NICU, trying to nurse.  So if I couldn't get her to latch or if I couldn't get my milk to come in – it was coming in at the time that she was in the NICU, so some of that was frustrating because she wasn't getting a full feed, and then they had to supplement after.
Alyssa:            They'd take her away from you?
Kristin:           Yes, so I had my ten minutes to get that done, and that was really overwhelming.  So I wasn't sleeping.  And my husband had experienced, with his daughter from a previous marriage, five weeks in the NICU, so he was very familiar with the NICU.  So for me, that made everything easier, so all of the protocols and the beeps and the wires, he was able to help me with, but for me, even four days was a lot, but for him, this was nothing in comparison to his daughter.  So we were able to navigate that, and again, I mean, there was a rocking chair there, and it was very comfortable.  My step-daughter could come in and visit, but it can be overwhelming.  So I have a heart for NICU and high-risk moms because of my own experience, and many of them experience longer stays and just so much more intensity as far as conditions with their babies.  Glucose is very minor in comparison, but it certainly made breastfeeding challenging because, again, with nipple confusion – and in the NICU my daughter had to have a pacifier, which all of my natural birth plans were like no pacifier; never going to introduce a bottle, at least until the first month or six weeks, according to what I learned in Lamaze class and everything.  So that really – a lot of my plans just went out the window, and I had to adapt.  And so I wasn't sleeping well, and we ended up getting released a day before Abby, so luckily, the hospital allowed us to stay an extra day, but we went home without our daughter, so you can imagine the car seat behind you, and not having a baby, and all of these family members and friends – it's my first baby, and wanting to come visit us in the hospital, and I was turning people away and saying "No, there's no baby.  You can't go to the NICU; there's no visiting."  And then to go home and spend the night in your home without your baby there is really tough.  So again, I have a heart for moms that experience that for so much longer than what I did.  But then the next morning, we got up very early and went to the hospital, and she got her glucose tested and she was fine to go, so we were able to go home.  But then when I got home with her, I didn't know what to do.  I wanted to breastfeed, but she didn't really want to breastfeed.  She wanted a bottle.  It's so much less work; it's quicker.  So, you know, I was pumping, so she had my pumped milk that she could use, and we stopped supplementing by that point, but I had to get a lot of help from lactation, so I went back to Spectrum Health multiple times and met with the lactation consultants, and that wasn't really working.  So then I ended up having lactation consultants come into my home and help, and I finally got the latch that would really work for me comfort-wise, and I was able to make it work.  And then my daughter didn't to wean.  She wanted to nurse forever.
Alyssa:            She never gave up.  So was there any fear that day you brought her home, like, she just spent four days in the NICU because there's something wrong, and they said it's manageable now, but now she's home.  Did you have this fear of what if something happens while she's home?
Kristin:           Yeah, I mean, I certainly wanted to go to the pediatrician's office as much as I could for reassurance that everything was okay.  And I didn't know that I could care for her as a new parent and having other people have their hands on her and telling me what to do, and so I was overwhelmed.  And my husband went back to work, and I was used to working, so I had my leave time, and that was a little challenging, especially having spent three weeks on bed rest right before having her.  So that isolation was a bit much, and I didn't know what postpartum doulas were back then, but I did have the help from a local nonprofit called Moms Bloom, and a volunteer came into my home who was retired.  So she was a grandmother, essentially, and she would hold Abby so I could take a shower or do some things around the house, and that was nice.  And it gave me someone to talk to because again, I was overwhelmed and lonely.  And it reassured me that I was doing everything that I needed to, and that there were no concerns, that she was normal and healthy.  So yeah, there is some of that anxiety as a new parent coming back from the hospital and that's something that I wouldn't be able to catch, could be wrong again with her.  But we got through it, and again, she nursed into toddlerhood, so it all worked out.
Alyssa:            Go, Abby!
Kristin:           It's all about, yeah, just getting resources and having a support system around you after getting home from the NICU because it can be overwhelming.
Alyssa:            It's so easy to give up.  I think that's key it just have enough support and don't be afraid to ask for help.
Kristin:           Yes, exactly.  Yeah, and so you're not alone, NICU moms!  I understand, in a very small way, what you go through, but there are so many wonderful nurses and support groups within the hospital, and the breastfeeding support groups, so just know that you have resources and reach out to the community.  Postpartum and overnight doulas are here to help, so again, that's something that I would have used had I know that that was an option, and for NICU moms especially, we can lighten your load a lot and give you reassurance and support with your new baby or babies.
Alyssa:            Well, thanks for sharing, and if you want to find out more our daytime and overnight postpartum doulas, you can check out our website, goldcoastdoulas.com, and then if you want to email either of us, Kristin or I, info@goldcoastdoulas.com.  We would love to hear from you.  Thanks, Kristin.
Kristin:           Thanks.