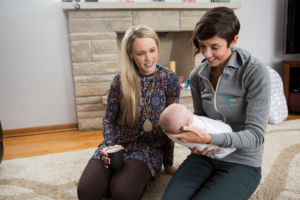 Podcast Episode #58: Sleep Misconceptions
Gentle Sleep Consultant, Alyssa Veneklase, talks about the most common misconceptions around sleep training.  If your baby sleeps through the night will your milk supply dry up?  Can a baby really self-soothe?  Will my baby feel abandoned?  You can listen to this complete podcast on iTunes or SoundCloud.
Kristin:  Welcome to Ask the Doulas with Gold Coast Doulas.  This is Kristin, co-owner of Gold Coast Doulas, and I'm here with my business partner Alyssa.  And we chatted a while ago about sleep, and we are coming back to some of the top misconceptions related to sleep and training babies, as well as young children.
Alyssa:  I get a lot of people asking questions just because there are so many misconceptions about what a sleep trainer does.  So I listed a few of the most common, and I figured I'd kind of run through those.
Kristin:  Great!
Alyssa:  So the first one is that we let babies cry for hours.  So everyone has heard of cry-it-out.
Kristin:  The dreaded cry-it-out.
Alyssa:  And that is not something I do.  So I would tell parents that if a sleep consultant is telling you to let your baby cry for hours, please don't listen to them.  I don't think we should ever let our children cry for hours because it's not healthy for anybody, and it's just going to make baby and parents both miserable.  But babies do cry; there's no way to not have a baby cry.  Day and night, they're going to cry.  That's their only form of communication.  But not all cries mean distress.  They cry when they're hungry.  They cry when they're tired.  They cry when they're sad, angry, hot, cold, bored.  It's up to the parents to learn to distinguish those cries, and that means paying attention to what's happening.  So, for instance, if there's a loud noise outside: the phone rings, the dog barks, maybe the sun shines in their eyes through the window, or they yawn and then start crying.  If you're paying attention to what was happening to them around when they started crying, you'll begin to understand why they're crying and what that cry means.  You can't assume that all cries mean the same thing, and I run across that with parents.  "She cried, so she's hungry."  Or, "Oh, she cried, so she's tired."  And that would be like if you stood up and stubbed your toe, and I offered you a sandwich.  I'm not listening to what your cry means.  I'm not listening to you, and therefore, you can't trust me, that I'm actually paying attention to what you're telling me.
I talk about this a lot in my newborn survival class, that we need to listen and pay attention to our children, no matter how young, because when we respond accordingly, we begin to build that trust.  So when your child cries and you notice the tired signs, it's important to react accordingly: put them in their crib.  And then depending on the child's temperament, we soothe them to sleep in a method that makes sense for them.  So we don't do what a friend did for their child; we don't do what our mom did for us.  Each child is different, so that's my job to figure out when I speak with my clients.  And then I also have them fill out a really extensive intake form, so I know their child's current routine.  I figure out the parents' parenting methods and the temperament of the child, and then depending on what the parents have tried already, I ask about their successes and failures and what their goals are.  We come up with a plan that's specific for them, and then I assure them that nothing ever includes hours of crying.  No parent ever asks for that.
But again, depending on the temperament of the child, and sometimes it has to do with how many other kids are in the home, or does Mom have to go back to work in a week?  She might want a really fast method, and that might be what I call controlled crying, where we're going to say, if you're comfortable with ten minutes at a time, we're going to let baby cry for ten minutes at a time before we go in and intervene and try to help them soothe.  So, again, it's up to their parenting method and if they're in a rush or if they have a month to give it.
Kristin:  That makes sense.
Alyssa:  I've also heard that, well, I'm not going to be able to bond with my baby anymore if they can put themselves to sleep.  So many parents think that, and I don't know why they forget that you can bond during the daytime, too, but they're used to their baby falling asleep in their arms while rocking or breastfeeding, and now they fall asleep on their own.  So I tell them to focus on bonding during the day.  Especially if the mother is breastfeeding, that's the ultimate bonding experience, and it still happens several times throughout the day.
Once baby's on a good nap routine, it actually helps you bond better because when baby's awake, they're more alert and happy.  Some babies are so exhausted that all they do is cry and fuss, so it's nearly impossible to bond with a baby like that.  That's when the parents tell me, oh, my baby's colicky, and oftentimes I can tell just from the intake form alone that they're not colicky; they're overly tired.  And those babies just cry and cry and cry all day long.  So when babies do cry and fuss all the time from overtiredness, cumulatively, this creates a lot more crying than any sleep training does.  So this overly-tired baby's crying all day.  A little bit of crying at night for sleep training eliminates it all.
I had a client once that her baby began to sleep in the crib all alone, and then she called me after the fifth or sixth day and was really sad because she missed having her baby in her bed.  It's not my job to tell her she can't have her baby in bed with her; I'm not going to judge her for feeling sad.  Of course, she's used to having this bonding time with her baby in bed.  So I told her that the decision was hers, and she and her husband were now getting a full night's rest; the daughter was sleeping soundly all night with no tears, but Mom was feeling sad.  So I told her, if she wanted her daughter back in bed with her, by all means she can do that.  But she right away said, no way.  No way; I can't go back to the old way.  She knew she'd be back at square one where she was exhausted and angry, not able to function well at work, and really short with her husband.  So I suggested to make the weekends her bedtime snuggle-time in the morning.  Who doesn't love a Saturday or Sunday morning bedtime snuggle?  So on days they didn't have to get up for work or send her to daycare, they brought their daughter into bed with them, and she got to wake up and snuggle under the covers with them for an hour before they get up.  She can breastfeed, and it was this good balance where she felt like she could still have the whole weekend to bond with the baby and get a full night's rest.
Another one is that I've heard that, oh, your baby's going to feel abandoned.  I agree; if you're leaving your baby in a locked room inside a crib for hours with no intervention, they're going to feel abandoned.  It's a horrible idea and a horrible thought, and again, if anyone's telling you to do this, please don't.  A good sleep consultant will come up with the plan that's best for you.  So if they have only one solution to the sleep problem that they use with every client over and over, walk away.  There is no one right answer, or this would be easy.  People wouldn't need my help; people wouldn't need to read books.  So during my gentle sleep training, parents feel like they're supported by me, and the baby is gently guided into sleep slowly at the parents' pace so that nobody feels abandoned.  And again, I do have clients who are like, I need to do this now.  I have five days until I go back to work; I'm totally fine with some controlled crying.  Let's get this done.  And I still think it's gentle because I want baby to feel connected to parents still, and I don't want the parents to feel like they're abandoning their child.  So even with a little bit of crying, you can still make it gentle.
For breastfeeding, I hear all the time the concern that my milk supply is going to dry up.  And everyone is different.  When I have clients fill out my intake form, I find out if there are any breastfeeding issues.  Feeding is a huge part of the sleep consults.  If baby isn't gaining, I wouldn't even suggest sleep training; I would suggest a lactation consultant visit.  And there's no way a baby can sleep longer stretches if their belly isn't full.  It's just impossible.  If there's low milk supply, we can work with that, but while baby sleeps, mom can get up and pump or she can do a dream feed or both.  And if milk supply isn't an issue, your body's smart, and most women can go an eight-hour stretch without nursing.  But when baby wakes in the morning, they'll both be very, very ready.  So yeah, I ask a lot of questions about feeding, especially if a baby is breastfed, and my number one goal is that they are getting enough calories during the day before we even attempt for longer stretches at night.
Formula-fed babies are a little bit different because I know exactly how much they're getting.  They're usually gaining a lot, and then if they're older and eating solids, it still can be an issue.  I had one client say, "Oh, he just snacks and snacks and snacks, all day, all day, all day."  And I said, okay, well, what's he snacking on?  Come to find out, it was things like Cheerios and those puffs and just all empty calories.  So as soon as we changed it — I said get rid of all this processed food and think about healthy fruits and veggies that are appropriate for his age.  Add in some protein.  That's all he needed.  He was snacking on bad things all day.
Kristin:  Those easy finger foods.
Alyssa:  Yeah.  And then the last one that I get told a lot is, well, my child is just not a good sleeper.  I've tried everything, and nothing is going to work.  And so many parents say this, or they say, he's really strong-willed or she's a fighter, and I don't doubt that, but all babies want to sleep.  They do!  They want to sleep.  We just have to help them.  They don't know how, and we need to show them and guide them.  So as parents, we do the best we can, but unfortunately, it often means we've created some really bad habits.  It's really funny because a lot of moms will tell me, "I know I'm not supposed to do this, but this is what I do."  And they're in survival mode, for the most part.  If you've gone weeks or months without sleep, you're literally doing what you need to do to get this baby to sleep right now so that you can get back to sleep quickest.  So usually we know that they're bad habits, but it's the easiest solution at the moment, so we continue to do it until we just can't do it any longer, and they're so exhausted and sleep-deprived they can't take it anymore.
The best sleep plan is mutually agreeable between parent and child, and if we're trying to force the child to do something that is against what their internal clock is saying, then yes, they will fight.  If we try to get them to nap when they're not tired, we will think they're strong-willed.  If they wake every day at 4:00 AM just ready to party, we will say that they aren't good sleepers.  And all of these things are just products of poor sleep hygiene, not necessarily a problem with that child.  So a lot of the times, it's a lot of educating on sleep.  I give a very extensive plan, and a lot of the plan is just understanding sleep; how it works, and what, based on their baby's age, developmentally is going on.
Kristin:  Sure.  What about those parents that say their child doesn't fall asleep unless they're driving around the neighborhood in the car?
Alyssa:  Again, it's just a sleep association, and after a certain age, it's not even a healthy way to sleep.  They're not getting into the deep, restful sleep, and it's not restorative.  It's like a constant REM sleep where you're not getting any restorative sleep, and cat-napping is a really bad and a really common habit that little kids and babies get into, but again, they're not getting restorative sleep.  So it's teaching them about naps and how to allow their baby to soothe themselves to sleep, and it's figuring out what works because, again, it can't be the same for every baby.  Some babies love to suck, and every baby does because they suck on bottles and boobs and pacifiers, but some really love to suck, and that's their soothing mechanism.  The second they find a hand, sleep is a dream.
Kristin:  And they probably did that in the womb, as well.
Alyssa:  Yes, many babies do.  You'll see ultrasound pictures with little thumbs in their mouths, yeah.  The ones that like to be driven around, they might have an association with swinging or movement.  Especially as they begin to roll over and they can go on their sides or tummies, they might even roll themselves to sleep.  Some babies do that, and some — this one scares parents, but if they bump their heads against the crib or bang their hand or foot on the crib, but it's soothing for them.
Kristin:  I've seen babies do that, yeah.
Alyssa:  So it's letting parents know that they are soothing themselves to sleep.  Don't be alarmed.  I mean, if they're banging their head so hard that they're getting bruised and stuff, that's different, but a lot of the times, it's just kind of a light thump-thump-thump.  It's just understanding and watching; really watching your baby and understanding their cues and what they're telling you.  It's really important.
Kristin:  Fascinating!  Thanks for sharing!
Alyssa:  Sure!  If anyone has any other questions for me and wants to reach out, there is some info our website.  We've got some other podcasts and blogs about sleep.