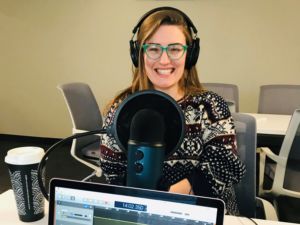 Podcast Episode #56: Traveling Postpartum Doulas
Will a postpartum doula travel?  Yes, at Gold Coast they do!  Today we talk to Kelsey Dean, a Certified Birth and Postpartum Doula, about her experience in California and in Michigan traveling with families as a postpartum doula and what that looks like.  You can listen to this complete podcast episode on iTunes or SoundCloud.   
Alyssa:  Hello, welcome to Ask the Doulas with Gold Coast Doulas.  Today we're talking to Kelsey Dean, one of our newest postpartum doulas, and then you've also come on as a birth doula as well.  Welcome!
Kelsey:  Thank you!
Alyssa:  I wanted to talk specifically about your postpartum experience.  Can you tell us where you came from and the type of experience you've had in California and even in the Detroit area, right?
Kelsey:  Yes.
Alyssa:  And then specifically I want to ask about this traveling aspect of the postpartum doula role.
Kelsey:  I started my doula training in 2016 to be a labor doula and postpartum doula.  It was just a full-spectrum course, so from there, I had intended to start midwifery school right after, and I thought I really want to get more experience, and so I started picking up postpartum clients because it's work that's easy enough to schedule, and it's also such a rich transition time that it kind of just called to me more.  So I began more so nannying for really small children; that was kind of how I got into the doula community and practicing, and then by referral I started to get young families or families that were planning on having children so we could plan a little further in advance.  And then I became a full postpartum doula in 2017, so it was about a year transition between doing nanny work and just getting what I could find.  In Sonoma County, I served families as a postpartum doula.  A lot of overnight shifts were something that were really popular there because sleep is critical.  So I moved to Michigan this past summer, in July of 2018, and I got really, really fortunate to link up with Jill Reiter from the After Baby Lady doula services in southeast Michigan, and she was great and connected me with so many families in that area.  The experience ranged from single parents to families with really extended family that's visiting on and off; a lot of range in socioeconomic status, and that's been really helpful to see, too, to just have that wide range of what can we do; what are your best resources?  And now I'm getting a little bit more into the traveling doula idea, and sometimes that's day work; sometimes it's overnight.  It totally depends on what the family wants, but I'm happy to talk about that more.
Alyssa:  Yeah, what does that look like for a family?  How far do you travel and how long?
Kelsey:  Totally depends on the doula.  For me, because I am pretty easily up and mobile, I am willing to go — I can't think of anywhere I wouldn't go.  I mean, really, if you're traveling, the idea is that you're essentially bringing another person with you that you would account for like a family member, so the family that's hiring is making sure that person has room and board, is able to access everything that they would be accessing like food and tickets and that sort of thing.  So in that sense, in some ways, it's very easy if you're a single person to just go because you're just jumping in to the plan that's already existing.  If it's someplace that's a little closer by, sometimes – like when I was with a family up in northern Michigan, it was nice that they made accommodations for me, but they already had a home, and so in that case, it's more a conversation of what does this look like?  If I'd had family up there or something, I really wouldn't have needed that, but if it were, like, we're going to Mexico and we need a doula, that's definitely, you know…
Alyssa:  You'd have your own room?
Kelsey:  Yes.
Alyssa:  And in northern Michigan you stayed in a hotel nearby?
Kelsey:  I did, yes, and those are usually flexible things, too.  Airbnbs are really affordable, and if they have an extra, you just would get one with one extra room in it or something like that.  That's actually worked out for a couple of doulas that I have been in a collective with in the past, that they just did that house share kind of thing, and then in that time off, usually if they're working overnight shifts or if doulas are working overnight shifts, then it's easy enough that they wake up and go to bed around 8:00 AM and then the family gets that nice morning time, and then around nap time, the family gets to all go take a nap and the doula comes back in.  So it's a rotating shift kind of thing.  It's like having another family member.  I mean, traveling is already kind of a stressful event, and a lot of the things that you would worry about as a new parent when you're in your home, like, okay, if I need to go see my doctor, where are they; how long is this going to take; or where can I go find this very specific thing that I need for my own health, like elderberry syrup is really popular now because it's the middle of winter, but things like that: doulas tend to think about those things, and we want to know that before we go somewhere and it's just one less thing for the parents or the family to think about over and over and over again.  So it's just like having that extra set of hands that you would need anywhere else.
Alyssa:  And what if somebody says, oh, wouldn't it be cheaper to bring a nanny with me?  Like, what would be the difference between hiring a nanny and a postpartum doula to come with you?
Kelsey:  I like this topic all the time, traveling or not.  Nannies are excellent, and they're meant to be with you for a long period of time and be with you while your child grows, and that's wonderful, but they're not necessarily certified in any education or expertise about your baby.  So yes, they might come in like another person that feels very warm and loving, and they feel like another family member and this extension that's really great, but there might be some really serious cues that they would miss about your newborn because they're not supposed to know.  Whether or not they've had kids, they might not have had that experience.
Alyssa:  And even cues with the mother, right?  Like noticing signs and symptoms, like breastfeeding issues or mental health issues that a postpartum doula is trained in.
Kelsey:  Yes, absolutely.  And nannies, I think, generally — I mean, I'm thinking about childcare, but in general, nannies really aren't there for a family in the same way that a doula is.  A doula is looking at everyone as a spectrum, as a family, whereas a nanny is really there for the childcare.
Alyssa:  I think that's a common question in general.  That's why I like to ask it, so I like that you like to answer it.
Kelsey:   I do!  And because I totally get it.  I've had several of my friends tell me about their nanny experiences with, like, twins that are four weeks old and stuff like that, and they just felt super overwhelmed and totally unprepared, and it's like, well, yeah, you were.
Alyssa:  You haven't been trained!
Kelsey:  Yeah, and a lot of times, the stories are from when my friends, being the nannies or babysitters, they were only, like, 16 or 17, totally unprepared for that kind of circumstance.
Alyssa:  That's kind of like a mother's helper role at that point.  You know, it's not even — I would have a hard time considered a 16-year-old a nanny.  It would be more of a babysitter or a mother's helper.
Kelsey:  Right, yes!  If you think of it in village terms, a woman that just had a baby — yes, there are those young women that come in to do some cleaning and make sure that you have fresh clothes and you get time to take a bath, but there's also the matriarch women, like the women that know what's right and wrong and how this process goes.  You need both.  I think doulas, as doulas, we try to cover as much of that spectrum as we can by going through some training and education and experience.  And yes, it's great that you also have the opportunity to have a nanny come in and help in that soft way and maybe make meals and things like that, but it's just not the whole package.
Alyssa:  Yeah, I agree.  And a doula — we know that we get into this for a temporary amount of time.  Like you said, it's a whole spectrum.  We'll supporting the whole family, and once the parent or parents feel — you can almost sense that confidence in them when you're like, okay, it's time for me to go.  And they're like, well, I don't want you to go!  But it's like, you're ready.  They're just not ready for you to leave, and sometimes it has to be gradual.  Like, okay, we'll go from three days a week to two to one, and it's like this gradual process instead of abruptly ending that relationship.  But then it's a great time for a nanny to step in.
Kelsey:  It is.  I like the concept that doulas are coming in during a transition time, and we try to be these invisible people that just have everything going on, but then the reality is that we're not invisible, and it's a subjective experience, and we're like, oh, now you have to transition out of us too, like double transition time.  But that's such a good time to connect with mommy groups in the area, or like you said, a nanny.  We can make those resources and referrals happen, too.
Alyssa:  Well, and that's the other thing too; we're connected.  Doulas are connected in the community, and like you said, we like to know where, if you're having an issue about this or that — hey, we know who you should talk to; we know who you should go see.  Let me have you call so and so.  We know how to make those referrals and connections.
Kelsey:  Yeah, we really can ease that transition.  And just on the note of nannies, sometimes I know we've all found people that were unexpected connections.  Like you meet someone that's a nanny that's a really good fit for you and your family, and that's great, and maybe you meet — the first interview that you go on with a doula just doesn't seem like the right fit, but in the same way, you choose a doctor or a chiropractor or someone like that, and if it's not the right fit, you still wouldn't go to a doctor and say, well, I didn't like that doctor, so I'm just going to see an acupuncturist or a chiropractor or a nurse.  If you need a doctor, then that's who you need, and I think with doulas, it's very much about finding the right fit.  This person is going to be in your house, in your vulnerable space.  They're seeing you at a vulnerable time.  It's so important to get the right fit, and the same thing goes for a nanny, but they're just not necessarily interchangeable.  They don't replace one another.
Alyssa:  Yeah, and I think that's what's great about having the team we do is because they're all wonderful, but they all have different personalities.  And I agree; I'm a definite type of personality that wouldn't want certain traits in a postpartum doula that another mother would be like, no, I need those.  So I think you're right, and meet two or three of them if you have to.  If you connect with the first one right away, awesome.  Which most of them do because all of our doulas are lovely, but yeah, it's not like a personal stab to the heart or anything if you don't get hired.  Just maybe it's a personality thing; personalities just don't fit.
Kelsey:  And at Meet the Doula events where there's a lot of us, we can feel that, too.  As a group of doulas, when a family walks in, you can say, oh, that's totally a doula family for Kristin; she's got that one for sure.  And it doesn't mean we don't like them.  I can still totally love a family and want the best for them, but just say that I can totally tell that they're a match for someone else.
Alyssa:  I agree.  We do that even with a phone conversation.  We can tell.  Five minutes of talking to a mom on the phone, and I can be like, I know who you need to talk to.  Gina, Julie, Kelsey.  You can totally get that vibe right away, and usually it's spot-on.
Kelsey:  Oh, yeah.  Women's intuition.
Alyssa:  So when you're traveling with a family, a nanny just has a salary?
Kelsey:  Right.
Alyssa:  Is that how it works?  So everything is the same?  But a postpartum doula is an hourly rate, so explain what that looks like for families if they wanted to go on vacation for two weeks and they had a nine-week old baby and wanted to bring a postpartum doula along.  What do the hours look like?  How do you figure out pay?
Kelsey:  It varies per family, again; however, I think the idea that you're taking someone on vacation so you should be able to get a discounted rate — at first glance, that does make sense.  However, when you look at the flip side of that, you're asking someone to uproot their lives, make sure everything is taken care of on a last-minute basis, and any plans that they may have had in those next two weeks, they have to reschedule.  So we are really putting our life on pause for this family, and I think for that reason, there are things that are just assumed that they're going to be paid for, like the accommodations and the ticket, and no, travel doulas aren't for everyone because they can be more expensive than a regular postpartum doula.  I mean, you're traveling, so in that sense, it can be — it's more expensive in general, but usually the rate is about the same.  We're all flexible, and we want to help, so we're willing to make it work with families.  But that being said, it's usually around the same rate in my experience, and what I've heard from other doulas that are also doing this.  And as for hourly schedules, we are there.
Alyssa:  You can either be there for 10 hours a day or 24, depending on what the family wants, right?
Kelsey:  Right, and it's kind of up to the family and the doula, because just like in any other doula work, if I'm doing an overnight shift here in Grand Rapids, I might be asleep for three of those hours and still being paid to be present in case something were to happen, so that's something that the doula and the family need to work out.  If they want overnight support, is that sleeping overnight support, or would they rather have maybe something until 3:00 AM and then switch so that the doula can get some sleep?  There's always a way to work it, and if cost is a limiting factor, then maybe 24-hour support isn't the best choice, but there's just so many different ways to work that, just like natural doula work in any other location.  And I think most people usually would prefer to have a 12-hour shift or something like that and then have a little time where it's just them and just their new family and have that bonding time where there's not another person kind of butting in and out because after a while we, if you can tell that everything is going really smoothly, it's like I don't need to ask you again if you need anything; I can tell you don't.  But if we're traveling with you, we're wherever you are.  It's not that we're out partying in Mexico for three hours and coming back to you.  We're probably just right down the street or at the beach or getting lunch, just in case you call or something like that.  So it's so flexible, and maybe a little bit — I think maybe doulas are a little bit more available in that kind of circumstance.  Like, if you wanted more care, we're already right there.
Alyssa:  Right, whereas a nanny service could be a little bit more rigid?  Like, you have her from this time to this time, and if you call after that, she's not going to answer.
Kelsey:  Yes.  And another thing about those excursions, like going-out-into-the-world excursions kind of things, when I was living in Sonoma, there were families that would want to go wine-tasting or something like that during the day, which is great; live it up.  I don't know if that really counts so much as traveling; it's more like a day-long event where you just need an extra pair of hands and somebody to juggle all these things.
Alyssa:  Well, and wine-tasting, specifically, you want a pair of sober hands, right, to be caring for your baby while you go wine-tasting.  That's probably a really good choice!
Kelsey:  And I guess that's not something that — I don't know if we would run into that here very often, although the beer thing — like people might go on a beer tour or something like that, but it's just like, that's great, get out and do your thing, and a pair of sober hands to make sure there's a quiet place for napping — and you'd be amazed.  Some of those places, if you're going to on a wine-tasting day or bop around a city, it's totally beautiful and it's totally feasible.  It's not this wild, crazy, drunken event.  It's okay to bring your baby with you.  It's just that there need to be safety precautions in place, so another pair of hands, yes, is critical.
Alyssa:  Well, and especially let's say if you have a three-year-old as well.  I think that makes it even trickier.  You just say, okay, I'm not even going to do these outings anymore.  But if you know you have this trusted professional that can come with you, why not?  Why not bring the kids along and let them experience this and everyone can enjoy it?
Kelsey:  Yes, and just in terms of mental health and overall wellbeing, that kind of feeling when you know you can go out and do something that you really want to do, in 15 hours, you're going to feel like a better person than when you were stuck at the house, like I can't leave; I'm stuck here.  Just having that mentality switch of having this liberation, this choice to make, that if I want to go do this thing, I can.  It's so relieving.  A lot of moms just feel stuck, like I have to take care of my two kids right now, and they're both driving me crazy at the same time, but I can't leave.
Alyssa:  Right.  And obviously, money is a factor for some families, and in that sense, a neighborhood little girl or mother's helper might be the right fit for them if that's all that they have the resources for.  And then in-home doula support is another level, and then traveling would be another level beyond that.
Kelsey:  Yes, traveling is definitely the most fortunate option, but even if — I mean, the great thing about postpartum doulas is that you can have us in your house, and you don't need to go anywhere.  If you want to go take a nap or take a shower, that's normal.  That's so much a part of our job.
Alyssa:  That's the majority, yeah.  I mean, sometimes a client will need to get out, and we tell them, you know what, go run for a coffee and come back in an hour.  But that almost gets into that babysitter role, like I'm just going to watch your kids while you leave.  I think as a postpartum doula, to be there with the family is critical because you can see them in action; you can help the mother bond with her baby if you see her struggling or help her with breastfeeding support or tell her, you know what, go take a shower or take a nap; I got this.  And when she wakes up and you've done the dishes, the baby's napping, and you're picking up the house, she's like — you're an angel!  This all happened in two hours?  How did you do this?  So I think really being there for the family when the family is there is critical, but there are those times of need where you're like, this mom needs to get out, and whether you go with her or tell her to go alone, I think sometimes that's just as important.
Kelsey:  Absolutely.  It is nice to have a whole family perspective, to see everyone together, and I know that's hard, especially if one parent is working or if it's a couple and one person is working already by the time they get a postpartum doula in the house.  That can be really challenging, but I've definitely had families who, even when there's only one person, you can feel something is just in the air.  Like, we're not talking about the partner that's not home, and there's, of course, different ways to handle that.  We do hear a fair amount, and there's that fine line that's, like, oh, playing around, and maybe that's how the relationship is with those people, that they've always kind of joked with each other like that, but sometimes it's not.  Your hormones are all over the place, and as doulas, we have a limited role in that, I think.  As a postpartum doula, there's definitely been times where I just thought, you know what?  This is maybe rooted deeper than the postpartum period, and I know that therapy sounds like a four-letter word for some people, but there's so many different ways to access really great conflict resolution and therapeutic helpers in the world that can sometimes just be a phone call from home that's really private.  And if that's something that is very built up already in someone's mind, maybe we can find the resources.  But most of all, I think we're the eyes in those kinds of circumstances to just be able to sense out just how strong the conflict is, to be able to make a plan of attack.  A lot of times, we get to ask the questions that are the uncomfortable questions that the cousin or the aunt or the mother-in-law would notice, but wouldn't want to say anything because you want to preserve that relationship for a lifetime, and it's a little more delicate.
Alyssa:  Or if they did ask, mom wouldn't answer honestly or would be offended or would get angry.  But coming from her doula who is in her home and she loves and now trusts, it feels like a friend asking, and you're available to be open and vulnerable with this person.  It's amazing how quickly that bond forms between a doula and a parent.  They just become so vulnerable with you, and I think that's the beauty of the relationship that becomes between these two or three — usually it's mom, baby, and doula, where they have this relationship, and that's why it's so hard to leave because mom has formed this bond.  And baby, too, you know?  Oftentimes, it's really hard to leave that baby that you've been with.  We have birth doulas who have been with a mom throughout pregnancy.  They were there for labor and delivery, and then there for months afterwards.  So that's a really strong bond.  It's really har d to sever.
Kelsey:  Absolutely it is, especially because you want to see the next step.  You know, there's always that one next thing that's almost there and you just want to be there for it.  Yeah, that is a hard bond to sever.  And they don't have to severed.  I mean, we're always there.  We just love.  Doulas are such big lovers that it doesn't have to be this severed bond of never speaking to each other again.  We just aren't going to be in your house four days a week anymore.
Alyssa:  Right, and you end up becoming Facebook friends and following photos there.  They'll send random photos via text, so yeah, I think that relationship continues; it's just a little less frequent.  Well, thank you for joining us.  If anyone is interested in learning more about Kelsey or hiring her for in-home or traveling doula, she is available, and you can contact us to chat about that.
Kelsey:  Thank you!