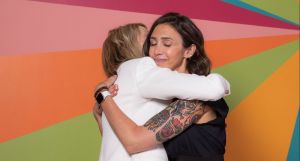 Ownership Change at Gold Coast Doulas
In 2015, when my daughter was 2 years old, I decided to leave my office job and become a postpartum doula. Kristin was one of the first doulas I met, and we actually took our postpartum trainings together. Little did we know that a year later she would call me to ask if I wanted to join Gold Coast Doulas as an owner. With an enthusiastic yes, I became co-owner in 2017.
From 2017 – 2022 we grew from 7 doulas to over 22 with lactation consultants, sleep consultants, and educators. We were nominated for all sorts of awards, became a Certified B Corporation, and were even given the honor of Top Woman Owned Business in 2021 by the Grand Rapids Chamber of Commerce. Together, we accomplished so much to elevate the level of support and professionalism of doulas in West Michigan, create amazing partnerships with health care providers, assemble a team of the best of the best, and offer the highest level of care to parents in our community.
Today I announce that I am stepping away from my role as co-owner and leaving Gold Coast Doulas in Kristin's capable hands. I will remain on the team as a subcontractor teaching my classes: Newborn Survival, Becoming a Mother, and Tired as a Mother.
I am now a licensed real estate agent at Urban Soil Realty with my husband, Brad. Before becoming a doula, my professional experience consisted of photography, interior design, construction, and real estate so this isn't unfamiliar territory. I've done hundreds of showings for condos downtown and walked dozens of construction job sites. Together, my husband and I own several properties, including a 5 room boutique hotel called The Finnley, named after our daughter, that will keep me busy. I am excited for what the future holds for me in this new venture, and thrilled to be working in a larger capacity with my husband in our family business.
To Kristin and the entire Gold Coast team, thank you for allowing me the opportunity to work with such an amazing group of women. You'll always be considered friends, and Gold Coast Doulas will always hold a special place in my heart.