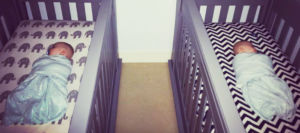 As a sleep consultant, I get asked often how early you can sleep train a baby. My answer is this – Most babies are ready around 12 weeks, but it's never too early to start introducing heathy habits to make the sleep training go smoothy when baby is ready.
Why 12 weeks? Most babies are developmentally ready around this time. They've also established a healthy eating routine (whether breastfeeding or bottle feeding), and they've gained substantial weight.
At 12 weeks most babies are ready to sleep through the night. Many breastfeeding mothers will actually wake their babies to nurse them, even though the baby would sleep through on their own. Some mothers pump once in the night and let baby sleep. Other mothers can make it through the night just fine sleeping 8 hours straight, but they will more than likely need to nurse or pump right when they wake up!
Please note that at 12 weeks sleeping through the night does not mean a 12 hour stretch. Very few babies at this age are ready for that. But some babies may be ready for a 6 or 8 hour stretch. If you've only been getting sleep in 2 hour chunks, this sounds fantastic!
When I put a plan together with a family, I first talk with them to find out what their values and goals are. If nursing in the night is a priority, we create a plan around that. If their main objective is for baby to get a full nights rest, uninterrupted, then we create a plan around that. There's no one right answer to sleep training; it has to fit each individual family.
So what kinds of things can you do with your newborn before that 12 week mark? You need to realize that babies thrive on routine. A chaotic schedule is not the ideal environment for a newborn. From day one, you can start to create a sense of consistency.
Wake up around the same time in the morning and go to bed around the same time at night. Do this for you and your baby.
Talk to your baby. Narrate life to them. Tell them what you're doing (changing their diaper, feeding, nap time, wake time, play time, etc). They are listening!
Have all sleep happen in a dark room with white noise. A good, arms-down swaddle is great for newborns! There are several types of swaddles (muslin wraps, Miracle Blanket, Love to Dream), find what works best for you and your baby.
As your baby establishes feeding patterns, try to stick to a schedule for feedings. Remember you must always be flexible. Babies are not always hungry every three hours on the dot. If your baby typically eats every three hours, be aware that sometimes it will be 2 hours, sometimes 2 1/2, but usually 3. Don't ever let your baby cry for food just to wait until the right time on the clock. Always watch for their cues and respond accordingly before letting them get too upset.
Speaking of cues, watch for them! Your baby is constantly communicating with you. From day one, they are communicating. As they grow, if you're paying attention, you will begin to distinguish what different cries mean. This is important to create a relationship of trust between you and your baby. You cannot assume every cry means food. Just as if you stubbed your toe, it would not help if someone offered you a hamburger. You would want to sit down and maybe have someone give you some ice or even a band aid.
By assuming all of your babies cries mean hunger, you are telling them you're not listening to what they are saying. Pay attention to what was happening to and around the baby when they started crying. Some babies are more introverted and like staring peacefully at a wall. They may begin to cry if there is a loud noise, a bright flash of light, or someone gets in their personal space too quickly. Others want to be in the room with all the action. Those babies may cry when you leave the room, or if they can't see out the window. They do not want to stare at a blank wall, they want colors, noise, and lights.
Your baby might cry because they are too hot, too cold, sitting in an uncomfortable position, have a dirty diaper, are tired, are hungry, have an upset stomach. By paying attention to how they react to what you offer, you start to establish that trust relationship that says,"I'm paying attention to you. I'm listening to what you're telling me, and I will react accordingly." Your baby will know that when something is too stimulating, you will pick them up and put them somewhere they feel more comfortable. Your baby will know that when they are tired, you will put them to bed.
A good example of this the well meaning visitor – or the "Space Invader" as I like to call them. They rush over to the baby and get right in their face. When the baby starts to cry, the visitor thinks the baby does not like them, when in fact they just invaded their personal space too abruptly. If a baby is content and then suddenly starts crying, it usually isn't too hard to figure out why if you're paying attention.
What does this have to do with sleep training? Everything! By establishing routines and a trust relationship from the beginning, you are eliminating unknowns for your baby. They trust you to do what's best for them. When you talk them through what's happening, they know what to expect. They know when it's time to change a diaper, put on clothes, or take a nap because you've been narrating their story to them and you've created consistency. This level of routine, consistency, and trust is your foundation to healthy sleep habits.
Then, when you call me around 12 weeks to start gently guiding your child through a full night's sleep, the ground work is already laid. A child that gets enough sleep is a healthier and happier child, and so are their parents.
For more information on sleep training, contact us by phone (616) 294-0207, email, or fill out our contact form. You can also learn more about Alyssa's methods on our blog.
Gold Coast Doulas is a participant in the Amazon Services LLC Associates Program, an affiliate advertising program designed to provide a means for sites to earn advertising fees by advertising and linking to Amazon.com.