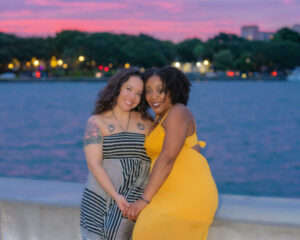 Meet our new Postpartum and Infant Care Doula, Jade
Meet our newest Postpartum Doula, Jade. We love to share interesting facts about our team. Jade is in the process of moving to Ludington from Florida. We are so happy to have her on the team.
What did you do before you became a doula?
I worked in customer service as well as in the medical field as a medical assistant. I have experience helping people during highly stressful times develop healthy habits and achievable goals that work for their day-to-day life.
What inspired you to become a doula?
From a very young age taking care of my loved ones brought me joy and babies expanded that feeling. I had dreams of becoming a NICU nurse or working in Labor and Delivery. One day that changed when I watched the documentary "The Business of Being Born". From that day I decided I wanted to see women take back their births and postpartum experience. To be a part of families making the choice to accept the help, time for bonding and rest they deserve.
Tell us about your family.
I am originally from Jacksonville, FL and I moved to Tampa, FL to begin college. That is where I met my wife, Chandra. I have been with Chandra since the summer of 2014 and we married in the fall of 2016. We have a fur baby we are obsessed with named Kira. We will be starting a family soon and we are very excited!
What is your favorite vacation spot and why? 
My favorite vacation spot is Vermont during the fall. The New England area in the fall truly looks like God kissed the land. It is magical.
Name your top five bands/musicians and tell us what you love about them.
Sade – She is calming, relaxing, and listening to her always creates a cozy mood.
Brandy – She is a triple threat and her vocal runs give me chills.
Lauryn Hill – Originally caught my eye in "Sister Act 2" and even with only one album her tone and lyrics carry me through year after year. She is the songbird of a generation.
Jhene Aiko – Her music is soulful and very connected to herself. Her use of chimes, sound bowls and other calming effects in her music keeps me coming back for more.
Janelle Monae – She embodies every bit of freedom I think we all would like to become. Her and her music deliver and leave me feeling great about being myself.
What is the best advice you have given to new families?

Take the time to fill your cup when you can, we have more to offer when we make taking care of ourselves a priority. To remember that you are not alone. Life is short but the period during postpartum can feel long so breathe through the moments. Keep in mind that each moment will give way to the next and as long as you live that sweet baby will need you.
What do you consider your doula superpower to be?

Education. Overall, I want to help and I believe that if you take care of yourself, you can better take care of others. I want to leave families better than I found them. I understand that if you leave someone with more confidence and knowledge, they will use that for the better.
What is your favorite food?
I love seafood. I could eat crabs daily!
What is your favorite place on West Michigan's Gold Coast?

This is my first time in Michigan. My family and I cannot wait to explore the coast and welcome all suggestions!
What are you reading now?

"The Highly Sensitive Parent"
Who are your role models?

Mothers are my role models. The level of admiration, respect and reverence I have for women who sacrifice their bodies before, during and after pregnancy, continue to take care of life and themselves has skyrocketed. Mothers are superheroes!