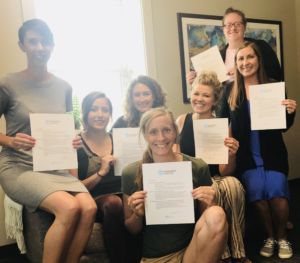 Mothership Certified Health Service Providers
Many of our doulas are Mothership Certified Health Service Providers. Sounds cool, but what does that mean? Here's a simplified breakdown of what we learned in our training and why it's so important.
The training involved learning the difference between empathy and sympathy. We understand that empathy never starts with, "At least…". Here's a great video that demonstrates the difference between the two.
[/fusion_text][fusion_youtube id="https://www.youtube.com/watch?v=1Evwgu369Jw" alignment="center" width="" height="" autoplay="false" api_params="" hide_on_mobile="small-visibility,medium-visibility,large-visibility" class="" /][fusion_separator style_type="none" hide_on_mobile="small-visibility,medium-visibility,large-visibility" class="" id="" sep_color="" top_margin="20″ bottom_margin="20″ border_size="" icon="" icon_circle="" icon_circle_color="" width="" alignment="center" /][fusion_text]
It's important to allow a client to feel their emotions, and sometimes the best thing to do is to let them talk and not say anything at all. It's okay to just be with someone. We don't need to try to fix the person or the situation.
Storytelling is a great vehicle for release. Maybe it's the release of a fear or anxiety. Maybe it's the release of a traumatic birth experience a client hasn't talked about yet. It can also be very uplifting. Sharing a personal story of redemption with a client can help calm fears. It can also make you more relatable if you open up and show some vulnerability.
We understand that everyone holds a certain level of bias, but knowing where those bias' come from and how to eliminate them is critical. Being aware is the first step, the identifying them, and acting according to our values. But the best thing you can do to eliminate bias is constant exposure to diverse situations. To feel comfortable outside our bubble, you need to get outside your bubble!
Our training also talked about stress and shifting the way we think about stress. Maybe those fight or fight responses are there for a reason! Our bodies are preparing us to handle the situation at hand.
After our training we pledged to the following:
To better understand ourselves by reflecting on our strengths and challenges by practicing self-care, so that we an give the best care to our clients (because having compassion for others starts with self-compassion). We will actively work on understanding and challenging our personal biases which can affect how we deliver services.
To better understand our clients by thinking about our clients in the context of their lives, considering how we can best serve them given their circumstances, feelings, challenges, and strengths. We will look for nonverbal emotional and cultural cues so we know how to best approach our clients when delivering services.
To build better connections and promote empowerment by being intentional in how we project our nonverbal communication cues, and by our choice of words.
Mothership was inspired based on their own experiences and the experiences of friends and family. They started with values and a vision, and then spent about a year researching how they could best serve families in their important role as parents. Using a human-centered design approach, they listened to moms, dads, other caregivers, and various health care providers like nurses, lactation consultants, doulas, and peer counselors to better understand family needs, health system constraints, existing initiatives, and opportunities for making an impact. From there, they developed their mission, guiding principles, and programs.
At Gold Coast Doulas, we believe the client and health partner relationship should be emotional and relational. It's a parent-centered relationship where we guide you and help you feel confident in our role. You will be seen, heard, and valued without judgment. We will listen to your unique needs and understand your unique situation.
To see which of our doulas are Mothership Certified Health Service Providers, look for the seal on their website bios.