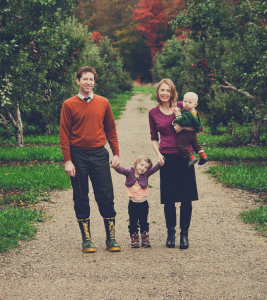 Meet Your Gold Coast Doulas - Kristin
1) What inspired you to become a doula?
Giving birth myself. It is a transformative and life-changing time.
2) What are your hobbies?
I love going on walks through the city with my family and traveling. We are also big music lovers and attend festivals and house concerts as often as we can.
3) Tell us about your family.
I adore my family. I have a talented and supportive husband who happens to be a writer and a poet. My 13 year-old step-daughter is the strongest person I know and is both goofy and kind in one just like her father. My 4.5 year old daughter is a born performer and loves to dance, sing and tell stories. My 3 year old son loves Spiderman and Jack Black. He also loves baseball. My family makes me laugh so hard my stomach hurts.
4) What is your favorite vacation spot and why?
The Hostel in the Forest in Brunswick,Georgia was the best family vacation we ever took even though it was a working one for me. We slept in treehouses in the woods and swam in the most beautiful lake and natural pool with the beach just a short drive away. The staff became like family and my kids will have memories for a lifetime.
5) Name your top five bands/musicians and tell us what you love about them.
Wilco, Pearl Jam, Neko Case, Peter Mulvey, and the Beatles. I love The Beatles so much that my daughter was named after the Abbey Road album. I love a good songwriter. That is what draws me to a musician.
6) What is the best advice you have given to new families?
To give yourself grace as a parent.
7) What do you consider your doula superpower to be?
I am great at sensing what my clients need before they tell me. I attune to each client well and act on my instincts.
8) What is your favorite food?
I love Thai food although I crave comfort foods after a birth.
9) What is your favorite place in West Michigan's Gold Coast?
Downtown Grand Rapids especially spending time on the Grand River at festivals and events.
10) What are you reading now?
Common Sense Pregnancy by Jeanne Faulkner, RN. It is really great so far.
11) Who is your role model and why?
I have many female mentors who supported me in all of my passions. I am forever grateful to them.
Click to learn more about Kristin