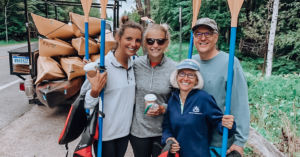 Meet Savannah Tallman, our newest birth doula!
What did you do before you became a doula?
Before obtaining my doula education, I was a full time student at Hope College in Holland. There I was able to graduate with a Bachelor of Arts in Exercise Science and Psychology. After graduation I moved to Grand Rapids where I moved into my quaint new home and adopted the most perfect kitten!
What inspired you to become a doula?
My experiences as a nurse technician on the Family Birthing unit is what created my drive to enter into this field. I was surrounded by numerous doctors, families, and at that point saw doulas do the amazing work they do. Watching the doula's love for what they do and seeing the gratification in the families eyes was powerful.
Tell us about your family.
I am the middle child with a younger sister and older brother. My older brother has blessed me with a niece and nephew and my younger sister is my biggest cheerleader. All born and raised in Grand Haven before moving to Grand Rapids.
What is your favorite vacation spot and why?
I love to go to the Upper Peninsula. I often forget how close it truly is compared to going down south. Mackinac Island is one of my favorites up north; it gives off the feeling that you are much further away and living a much simpler life. Always a nice refresh!
Name your top five bands/musicians and tell us what you love about them.
Chelsea Cutler, Thomas Rhett, Tate McRae, Morgan Wallen, and Upchurch.
All of them put so much time and thought into their lyrics, something I've always appreciated out of a song. It should convey more than just a good tune and catchy lyrics. The way they make their music poetry and allow their listeners to connect is so important!
What is the best advice you have given to new families?
As I've seen numerous families go through a pregnancy, each time I always tell them to just enjoy it. Oftentimes in this day and age, we are so caught up in all the extras and making sure that everything is perfect. As a doula, all I can hope for is to make this whole journey less stressful for anyone involved, assist in the preparation, and help add happiness in any way I can.
What do you consider your doula superpower to be?
Oftentimes in pressured situations, voices can be muffled in all the movements happening around them. I love to think that I can provide a sounding board for anything that the family or birthing partner needs to be heard.
What is your favorite food?
I love good cheese and will forever be a fan of a quality cheese board! Always an excuse for an easy snack or a meal.
What is your favorite place in West Michigan's Gold Coast?
After moving to Grand Rapids, I quickly realized how lucky I was to be raised in Grand Haven. Now, whenever I get the chance I love to go back to my favorite beach spots and hiking trails. I feel more lucky each time I am there!
What are you reading now?
My newest find is called 'The Beauty in Breaking", a memoir by Michele Harper. She talks about her hardships in the medical field and how it challenged her to become a better person outside of work, but also how she can use that to push medicine further.
Who are your role models?
The first person would be Ellen Pompeo. At first, you see her life behind the camera, but she has stood up in many political debates for issues that we face daily. As models who are constantly in the spotlight, many refrain from speaking their truth because they are scared of the backlash.
My Mom and Dad have also always been there for me through all of my ups and downs. They push me in times of growth and can laugh with me during my mistakes. They are always there for me and constantly support me, while giving me the space and independence to become my own person.