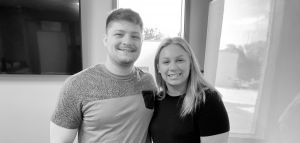 Meet our new postpartum doula, Olivia!
Let's learn a bit more about Olivia, our newest postpartum doula!
What did you do before you became a doula?
Before becoming a doula I worked as a nanny with a few different families over the span of 6 years. I loved learning the ebbs and flows of each family.
What inspired you to become a doula?
I was inspired to become a doula through my passion to care for people, which blossomed into caring for babies and their families. Becoming a doula only seemed like a natural thing for me to do.

Tell us about your family.
I've been married to my wonderful husband, Austin, since October of 2020.
What is your favorite vacation spot and why? 
My favorite vacation spot is Florida. My parents took me and my siblings there a few times as kids, and that's also where my husband and I honeymooned.
Name your top five bands/musicians and tell us what you love about them.
Tyler Childers, Justin Bieber, Queen, Eric church, and Drake.
They are my favorite because after a long day I can play their music in the car and feel better.
What is the best advice you have given to new families?
Each family is different, and each baby is different, so there is no one solution for everyone. It's important to give yourself grace while getting to know your baby and finding what's right for you and baby.

What do you consider your doula superpower to be?
Knowing when to step in to help and teach, and when to step back to observe and listen.
What is your favorite food?
My favorite food is macaroni and cheese from a box. Simple and easy, yet delicious!!

What is your favorite place on West Michigan's Gold Coast?
Lake Michigan in the summertime, and ice-skating downtown at Rosa Parks circle in the winter.

What are you reading now?
Currently I am reading Breastfeeding Made Simple. Seven Natural Laws for Nursing Mothers.

Who are your role models?
My husband, Austin, because of how patient and forgiving he is. He teaches me how to love daily. My other roll model is my oldest sister, Anna, because of the way she mothers her two sons. Someday I hope to be a mother like her.