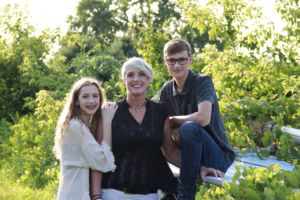 Meet our new IBCLC, Cami!
We are so excited to announce that we now have a Lactation Consultant on the lakeshore! Cami comes to Gold Coast with an amazing medical background and almost 20 years of experience as an IBCLC. Let's get to know her a little better.
1) What did you do before you became an IBCLC?
I have been an RN for 28 years.  I worked many years in the Surgical Critical Care unit at Spectrum Hospital. Once I started my family, I switched to Labor & Deliver, Special Care Nursery, Postpartum Care and normal newborn nursery, mainly working Labor & Delivery and Special Care Nursery.   After my first child was born in 2000 I began helping in the Lactation Office, and became an International Board Certified Lactation Consult in 2001. After many years of working many positions on the birthing center, I began to concentrate on my skills as a Lactation Consultant. I have been working in the field of Lactation soley since 2010.
2) What inspired you to become an IBCLC?
While working on the birthing center, I found I truly enjoyed working with the mother baby dyad and their breastfeeding journey.
3) Tell us about your family.
I'm a single mom of two children. My son Jarek is 19 and just recently joined the Air Force. My daughter Skyler is 16 and is just finishing up her Sophomore year at Zeeland East High School.
4) What is your favorite vacation spot and why?
With a busy family life, vacations are hard to come by. My daughter and I enjoy horseback riding, feral cat/kitten rescue, hiking the lake shore, and hammocking. My son and I enjoy hanging out together watching movies, working on his car, and attending car shows.
5) Name your top five bands/musicians and tell us what you love about them.
I enjoy all types of music, however my go to music is 80-90's Alternative. Bands such as The Cure, Smiths, Cranberries, and the Pixies.
6) What is the best advice you have given to new families? 
My advice to new families is to be open to change, talk to your partner open and honestly. Enjoy every step, the good and the challenging because the days go by quickly.
7) What do you consider your superpower to be?
I find that as a Lactation Consultant I'm able to connect with families and help moms reach their goals. I love new families, and it shows in how passionate I am at what I do.
8) What is your favorite food? 
I love finding new fresh foods. I have Celiac disease and enjoy turning normal dishes that I grew up with into Gluten Free dishes. Italian food and desserts are my two loves.
9) What is your favorite place in West Michigan's Gold Coast? 
Saugatuck Dunes is my favorite place to hike and to enjoy the coastline of Lake Michigan. I've been lucky enough to enjoy horseback riding on West Michigan beautiful beaches, enjoying summer rides, and even a few Christmas eve rides with the snow billowing around my horse and I.
10) What are you reading now?
I've recently been reading about and studying the Baby Friendly Initiative, and I have been involved with research over the years to help determine what can help increase the breastfeeding rates in MI. I've just joined an amazing group of woman on the lakeshore to form the first Ottawa County Breastfeeding Coalition.
11) Who are your role models? 
My Grandmother and Mother are my biggest role models. My Grandmother passed away many years ago, but she was a huge influence in my life, always showing love to anyone in need. She raised 12 amazing children.  My Mom has always been my biggest supporter and has the same spirit as her Mother. She has a huge heart and passion for life. She has helped mold me into the Mother and friend that I am today.