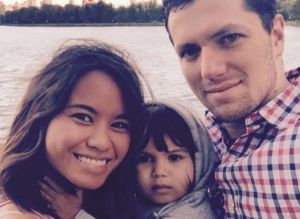 Meet our new birth doula, Mary!
1) What did you do before you became a doula?
I left my career in marketing to be a full-time mom, and with my young family, I ended up
traveling for a few years to support my husband's graduate studies in South Bend, Rome, and New York City. Since then, we've settled back in West Michigan, which has allowed me to focus on my work as a birth doula.
2) What inspired you to become a doula?
My first birth included a cesarean delivery and breastfeeding complications, and I desperately needed more emotional and physical support than what my healthcare team and family could provide. With a nursing background, I've always had a knack for bedside care, and when I was faced with challenges during my first birth, I saw an opportunity to exercise my talents in service to other moms.
3) Tell us about your family.
My husband and I live in Holland with our two young girls and Australian Shepherd. We enjoy playing outdoors, singing and dancing to music, and exploring Holland's beautiful architecture.
4) What is your favorite vacation spot and why?
Hands down, New York City! I enjoy the many pleasures of Central Park, the aimless strolls, finding pockets of live music, the zoo, discovering hidden playgrounds and so much more! I also find vintage picking very relaxing and love to shop at flea markets in Fort Greene and DUMBO. The best view of Manhattan is from Brooklyn Bridge Park, lying in the grass or riding on Jane's Carousel.
5) Name your top five bands/musicians and tell us what you love about them.
Jenny Lewis – Her casual lyrics and indie vibe always bring me back to So-Cal.
Adele – Undeniable voice.
Death Cab for Cutie – Soundtrack of my early 20's.
Taylor Swift – I've followed her career from the very beginning and admire her for being herself. My daughter and I love to sing and dance to "Shake it off".
Ryan Adams – My husband and I listen to DRA together. Some of our favorites include When the Stars Go Blue, Typecast, and his cover of T. Swift's album 1989.
One last note on music… Our 4-year-old is named after Ben Folds' song, Emaline, and our baby's middle name comes from Magnolia Electric Company's album, Josephine.
6) What is the best advice you have given to new families?
Gather your "village" to help you and your family postpartum, assigning household chores, pet care, and meal preparation to friends and family. As humans, this is how were meant to deal with the early days of child rearing. Using an online platform like CareCalendar keeps everyone involved, organized and updated with open tasks, all on your family's timing. If more help is needed, consider hiring a postpartum doula.
7) What do you consider your doula superpower to be?
As a former practicing nurse, nurturing bedside manner has been my forte. I have a talent for anticipating a mother's needs during childbirth and in the immediate postpartum period, always prepared to communicate her needs respectfully to the healthcare team.
8) What is your favorite food?
I really enjoy a healthy diet, but I have a weakness for FRIES!!! Steak fries, sweet potato fries, crinkle fries, curly fries, and smiley fries, remember those?
9) What is your favorite place in West Michigan's Gold Coast? 
My hometown, Holland! I absolutely love Holland's beaches, hiking, the farmer's market, and enjoying meals outdoors.
10) What are you reading now?
Baby-Led Weaning: The Essential Guide to Introducing Solid Foods and Helping Your Baby to Grow Up a Happy and Confident Eater, by Rapley and Murkett.
This Isn't What I Expected: Overcoming Postpartum Depression, by Kleiman and Raskin.
11) Who are your role models?
My husband, Nick. After the birth of our first daughter, he realized his true calling and returned to grad school to study architecture. As a new father with new responsibilities, he juggled (or at least tried to juggle) school, family, and part-time jobs, pressing on to join the profession that he loves. Nick wanted to lead by example, showing our children the importance of careful career discernment. Without his courage to change careers, I wouldn't have found my own path of self-discovery, pursuing work as a birth doula and lactation consultant.
Renowned midwife, Ina May Gaskin. Reading her book, Ina May's Guide to Natural Childbirth
​restored my faith in what a woman's body is capable of during childbirth. It's a must read for all pregnant mothers who desire a natural birth or just want to learn more about the birthing process and how to avoid unnecessary medical interventions often performed in today's maternity care.