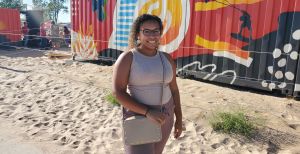 Meet our new birth and postpartum doula, Angel!
What did you do before you became a doula?
I have been working in health care since I graduated high school. I started off as a CNA working with geriatric populations in a facility. I then because a nursing assistant in adult acute care in the hospital while I went to nursing school. I have been working as a registered nurse for the last 2.5 years, the most recent setting being in the hospital with high risk postpartum and women's health populations.
What inspired you to become a doula?
My patients are what inspired me to look into how I could better support families during their labor, delivery, and postpartum journey. I have heard too many stories about traumatic birth experiences and families longing for more support. I am always looking to expand my skillset to better serve and partner in my patient's care. In researching this I discovered doula work and I was intrigued, I wanted to jump right in, but I was not sure where to even begin.
Tell us about your family.
I live in Grand Rapids with my partner. We were doing long distance since we lived on opposite sides of the state for our careers, until this month! Together we have two fur babies – a big baby of a spaniel mix named Willow, and a dramatic, mischievous cat named Tofu. We both have complicated extended families, but they live nearby.
What is your favorite vacation spot and why?
I really enjoy the Ybor city neighborhood of Tampa, Florida. It has the hustle and bustle of Tampa with lots of shopping, restaurants, and entertainment. It is also a historic Cuban town that is full of culture. My father lives about 30 minutes from there which gets me away from the business that the city offers.
Name your top five bands/musicians and tell us what you love about them.
This is difficult because I love music and listen to varying genres depending on my mood.
· Dermot Kennedy: His voice is extremely powerful and soothing. He sounds even better live than in his recordings.
· Eminem: I listen to him when I need to hype up and get some things done quickly. His music never gets old.
· Stevie Wonder: I grew up listening to his music while my dad was working on building my childhood home, I remember being shocked when my dad told me he was visually impaired, it made me enjoy his music even more.
· Machine Gun Kelly: His unique blend of hip hop and rock has me turning to him when I need a little pick me up.
· Fletcher: She sings about real life experiences that I relate to. She is newer to the music scene with her first single being released two years ago, but she is not short on talent.
What is the best advice you have given to new families?
Follow your gut! You know your body and your baby best, advocate for yourself to get questions answered, concerns addressed, etc.
What do you consider your doula superpower to be?
I can quickly form a good rapport with clients. This makes things go smoothly so those around me can feel comfortable being their authentic self and it makes asking those tough questions a little easier.
What is your favorite food?
Chicken alfredo is my favorite, you cant go wrong there.
What is your favorite place on West Michigan's Gold Coast?
There is a beautiful area of lake Michigan in Whitehall that always brings me peace. When I am feeling stressed or overwhelmed, it is a great spot to just watch the water and sit on the big rocks or the sand and listen to music or read.
What are you reading now?
I am currently reading the latest issue of the Journal of Perinatal and Neonatal Nursing, specifically an article titled "Perinatal Quality and Equity – Indicators That Address Disparities". Health disparities have always been of interest to me, especially when it comes to maternal and infant health care.
Who are your role models?
I have a few but my father would be the one who has made the biggest impact on me. He was always extremely tough on me while growing up, and I now realize why. He started from nothing and has really made something of himself. He never wanted me to struggle in the ways that he did so he made me learn some tough lessons, but it made me a better person. He is the person I can count on to give me an honest opinion on something or to tell me when I need to get back on track. He has shown me that hard work pays off and to play hard, you must work harder: that is something I now live by.