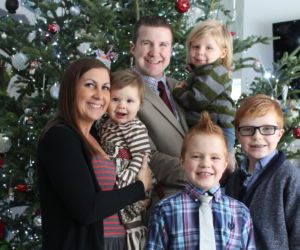 Meet our new Birth and Postpartum Doula, Julie!
We're excited to welcome Julie Skripka to the Gold Coast team as a Birth and Postpartum Doula! Let's get to know her a little better.
1) What did you do before you became a doula?
Before starting my doula adventure, I was home raising and homeschooling my 4 children. I currently nanny and run the nursery at church. I went to Michigan State University and have an English degree with minors in Child Development and Communications.
2) What inspired you to become a doula?
I love babies and helping others! I want to empower and support women through this life change.
3) Tell us about your family.
I have been married to my husband, Nick, since August 2005. We have 4 awesome children, Harper, Hunter, Heath, and Hope. My family is my whole world!
4) What is your favorite vacation spot and why?
We love going to the Silver Lake Sand Dunes. Sun, sand and fun! I grew up going there as a kid and it's fun to bring my kids and make new memories.
5) Name your top five bands/musicians and tell us what you love about them.
Skillet: They put on an amazing show! I love how I can feel the power in their music and they sing about my hero!
Mumford and Sons: The mix of instruments this folk rock group plays gives them a unique sound. It's hard to stop listening to them!
Jack Johnson: Things are always better together! His lyrics are smart and I love his acoustic folk sound.
Lauren Daigle: Lauren's voice is beautiful and the messages in her songs always uplift me.
Toby Mac: His energy is contagious!
6) What is the best advice you have given to new families?
Do what works for your family and love on your babies often! They grow so fast!!
7) What do you consider your doula superpower to be?
Calming babies and helping them sleep. I have been asked if I'm magic!!
8) What is your favorite food?
Tacos!!
9) What is your favorite place in West Michigan's Gold Coast?
Any Lake Michigan beach at sunset is pretty sweet!
10) What are you reading now?
The Birth Partner by Penny Simkins.
11) Who are your role models?
My grandma is my role model! She had 7 kids. I admire her for her love of family and her huge heart. She taught me to spoil my people with love, attention, and gifts. To listen and remember what people say and to always check back in with them. She had a spunk for life I carry in my heart with me everyday. She encouraged me to be me and loved me unconditionally, and I want others to feel the way she always made me feel!