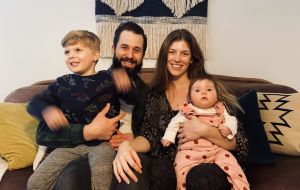 Meet Jaclyn Geroux, our newest postpartum doula! She filled out our questionnaire, so let's get to know her!
What did you do before you became a doula?
I've spent the last 3.5 years as a stay at home mom. Prior to that, I was employed as an advocate for individuals with intellectual and developmental disabilities, and later as a nanny. Before my babies were born, I spent a lot of time traveling domestically and internationally.
What inspired you to become a doula?
I've always had a sweet spot in my heart for the care of girls and women, but my own transition to motherhood is what really launched my passion for this work. I experienced a lot of challenges and conflicting feelings when I became a mother. As I began opening up about my experiences, I met many women with similar stories. Once I understood more about the role of a doula, I believed it was an opportunity to channel even a small part of what I had learned to help others.
Tell us about your family.
I've been married to my husband, Dave, almost 5 years. Our son, Luke, is 3½ and our daughter, Ivy, is 4 months old. We have a sweet boxer, Selah, whose nickname is "the nanny". She's great with our kids!
What is your favorite vacation spot and why?
I love Northern Michigan, especially in fall when the leaves are changing. I like that it's not too far, yet still feels like a getaway. Also, the scenery is just beautiful.
Name your top five bands/musicians and tell us what you love about them.
Most of the time, I prefer peace and quiet to music these days! When I am in the mood, I gravitate towards folk and singer/songwriter genres (John Denver, James Taylor, Gregory Alan Isakov), praise and worship (Steffany Gretzinger and Amanda Cook), and pop music. I'm a huge fan of Katy Perry.
What is the best advice you have given to new families?
You will ultimately discover what works best for you and your baby. It may not look like what you thought, or like what other people are doing, and that's totally okay.
What do you consider your doula superpower to be?
A calming presence and intuition.
What is your favorite food?
Sushi!
What is your favorite place in West Michigan's Gold Coast?
I love Rosy Mound park.
What are you reading now?
Healthy Sleep Habits, Happy Child by Marc Weissbluth and Go Diaper Free by Andrea Olson.
Who are your role models?
Both of my grandmothers, who have collectively taught me so much about the importance of family and friendship. Blogger Allie Casazza, who pursues motherhood so intentionally, and my spiritual director Mary, who is full of grace and compassion for humanity.