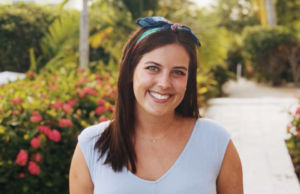 Meet Emma, our newest birth doula!
Meet Emma Stevens, the newest birth doula on the Gold Coast Team. Let's learn a bit about her!
What did you do before you became a doula?
I am currently finishing up my Communications degree at Hope College where I was able to study abroad in Kenya and intern in a local maternity ward. I also work in assisted living to further my nursing experience.
What inspired you to become a doula?
Ever since I was little, I wanted to work with new moms and infants. My time in the delivery room in Kenya solidified my passion as I was able to comfort women when family members were not allowed into the room.
Tell us about your family.
I have my mom and my dad and two younger sisters. In addition, we have the two cutest wire-haired griffon puppies.
What is your favorite vacation spot and why?
Elbow Cay, Bahamas is where I hold the best memories with my family and friends. We visit often and I have made some great local friendships as well.
Name your top five bands/musicians and tell us what you love about them.
This is always changing but right now it would be these 5:
1. Allen Stone- great driving music
2. Vampire Weekend- reminds me of highschool days and has remained one of my favorite bands since 3. The Mamma Mia soundtrack for singing and dancing!
4. Sauti Sol- My favorite music from Kenya
5. Fleetwood Mac- an oldie but goodie
What is the best advice you have given to new families?
Don't be afraid to ask for help, do what's best for YOU and YOUR baby.
What do you consider your doula superpower to be?
Inclusive and non-judgmental support.
What is your favorite food?
Italian food (Indian food is a close second).
What is your favorite place in West Michigan's Gold Coast?
My home!
What are you reading now?
The Birth Partner
Who are your role models?
My parents, Rachel Hollis, and travel vloggers Kara and Nate.