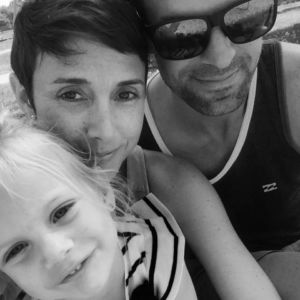 Meet Your Gold Coast Doula - Alyssa
We love asking our Gold Coast Doulas questions so you get to know them a bit more. Meet our co-owner,
Alyssa Veneklase
and learn about her inspirations and her travel adventures.
1) What did you do before you became a doula?
For the past 15 years I was in the construction/real estate business doing everything from interior design and marketing, to safety and human resources. My favorite part of what I did was working with people, both clients and employees. I also enjoyed my role as director of charitable giving. I've always had a heart for children and families, so serving on committees and boards was a top priority.
2) What inspired you to become a doula?
When I became pregnant I began to research everything. I became a wealth of knowledge and before I knew it, I was the one my friends and family reached out to for help, resources, and guidance. Once I had my daughter, I knew I wanted to help other mothers and other families during the prenatal and early postpartum stages.
4) Tell us about your family
I have been married to my husband, Bradley, for 5 1/2 years. We love to travel together and now have an almost 4-year old who loves to travel with us! She's a beautiful, bright, witty, and sometimes sassy little girl who keeps us smiling.
5) What is your favorite vacation spot and why? 
Before having our daughter, my husband and I took a 3 week trip to Thailand. It was the most beautiful place we've ever seen (better than Hawaii). The people were kind and generous. The food was spectacular. The water was crystal clear and the beaches were stunning. We think of it often.
6) Name your top five bands/musicians and tell us what you love about them.
I have so many I don't know how I will choose. So I'll list the first 5 that pop into my head:
Leonard Cohen – His voice. I mean, come on. And his lyrics are beautiful.
Stevie Wonder – I can't help but dance in my seat when his songs are playing.
Depeche Mode – My favorite band from the 80's. I know all the lyrics and love singing them out loud.
Vampire Weekend – Again, when I hear their songs I just have to dance. They're fun and make me smile.
Sia – She has the most incredible voice and uses it so creatively. She also has the best music videos.
7) What is the best advice you have given to new families?
The most recent example is suggesting a client and her husband make it a priority to have a date night. They always had excuses why they couldn't do it, so I told them I would do whatever I needed to make it happen. They went on their first date night after having their baby and came back giggly and holding hands.
8) What do you consider your doula superpower to be?
My super power is making people feel comfortable and at ease. Inviting a stranger into your home, your sacred space, is a big deal. I have the ability to listen, observe, and figure out the family dynamic and how I can best be utilized. I can tell when a mother needs me to jump right in and tell her what needs to be done, and I can tell when a mother just wants to sit for a while and have someone listen to her.
9) What is your favorite food?
Probably a good steak and some brussel sprouts.10) What is your favorite place in West Michigan's Gold Coast?
My husband and I got married in Union Pier along the coast at a little resort called the Fire Fly Inn. I am very fond of that little town now.
11) What are you reading now?
Misconceptions by Naomi Wolf.
12) Who are your role models?
I have a few close friends that I adore and are positive and uplifting role models. My husband is always my voice of reason.