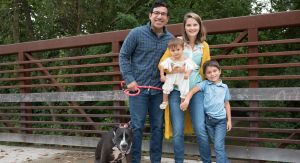 Meet Alyssa Zapata, Certified Birth Doula!
Alyssa used to work with us as a placenta encapsulator and is now back with Gold Coast, this time as a birth doula!
What did you do before you became a doula?
I worked in the hospitality industry at restaurants, B&B's, and assisting wedding planners. I also became a momma to my oldest who will be 7 in October!
What inspired you to become a doula?
Having an empowering unmedicated birth at Butterworth with a wonderful doula, Chasity, who is now a midwife student in Georgia.
Tell us about your family.
My husband of 6 years, Adam, works in IT at Herman Miller in Zeeland. We met through one of his friends at Hope College when I was going to Grand Valley State University. We have made it through a surprise pregnancy of our wonderful son at the beginning of our relationship, through multiple pregnancies/losses, a wedding, a dog, and 3 moves. He works very hard, keeps me grounded, and reminds me to slow down when I need to.
Our son, Joaquin, will be 7 in October; heading to 1st grade Spanish Immersion at Innocademy in Zeeland in the fall. He loves building things, making crafts, and playing soccer.
Our daughter, Valerie, will be 2 in October. She is very strong willed and always on the go!
Currently she loves gymnastics class with me and Minnie Mouse.
Our pit bull, Daisy, who we adopted when she was a little over a year old, and is now 5 years old. She loves people and running around our backyard.
We also have 2 angel babies in heaven.
What is your favorite vacation spot and why?
In Michigan, Harbor Springs where my family cottage is because I have so many wonderful memories there.
In the US probably the Smokey Mountains in Tennesse. It is so peaceful and a beautiful place to hike.
In the world, Florence, Italy. Italians know how to enjoy life and live slowly with beautiful art surrounding them.
Name your top five bands/musicians and tell us what you love about them.
This is hard!
Anything by Lin Manuel Miranda. It's unique and I'm a musical theatre nerd.
Eagles, my parents often listened to them when I was growing up. They remind me of times at the cottage.
John Legend because he is one of the only artists my husband and I agree upon. Beautiful heartfelt lyrics.
Lady Gaga because she is a great live performer and stands for inclusiveness.
Queen, you just can't beat the sound!
What is the best advice you have given to new families?
That you are the parents meant for this baby, don't let other parents or advice cloud your own instincts.
What do you consider your doula superpower to be?
I have a passion for evidence-based procedures and educating clients of their choices.
What is your favorite food?
Fresh made guacamole.
What is your favorite place on West Michigan's Gold Coast?
Grand Haven.
What are you reading now? 
The Whole-Brain Child
Who is your role model?
My mother. She was the breadwinner in my family growing up and worked in the
male-dominated field of finance within a major corporation. I may not align with that type
of work or be analytical like her, but she taught me how to work hard and not to let
anything stop you because you are a woman.