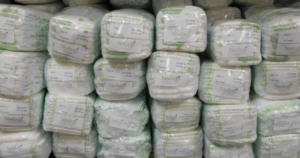 In case you haven't heard, Gold Coast Doulas is holding our annual Diaper Drive the entire month of September!
Why do we care so much about diapers?
Diapers are a basic health necessity for babies and are not provided by government assistance programs, but are one of the top un-met needs of low-income families. The inability of many families to meet this basic hygiene need for the smallest of their family members can create a sense of failure, guilt, and anxiety.
Parents, imagine not having the luxury of changing your baby's diaper every time it was soiled (which we all know happens multiple times per day). How would you feel knowing you had to leave your baby in a dirty diaper all day because you only had one left and couldn't afford to buy more? And imagine how that baby feels, wearing the same wet diaper all day and night.
The diaper drive coincides with National Diaper Awareness Needs week, September 25 – October 1.  Diaper Need Awareness Week is an initiative of the National Diaper Bank Network (NDBN), created to make a difference in the lives of the nearly 5.2 million babies in the United States aged three or younger who live in poor or low-income families.
Our drive specifically benefits Nestlings Diaper Bank and First Steps of Kent County. Holland-based Nestlings has distributed over 1/2 million diapers and helped over 15,000 families since 2011. Nestlings Diaper Bank also works with 30 partner agencies to distribute the diapers to the families in need. First Steps is an independent, influential, and neutral entity that leads the community's efforts to strengthen and coordinate early childhood services in Kent County.
Our goal is to collect 30,000 diapers to support families in need in Kent and Ottawa counties. Diaper donations will be from September 1 to October 1 at the following drop-off locations:
In Zeeland:
Smedley Dental 133 1/3 E Main Ave
Howard Miller Library 14 S. Church Street
In Holland:
Untangled Salon 650 Riley Street
Brann's 12234 James Street
Harbor Health and Massage 444 Washington Ave.
EcoBuns Baby + Co 12330 James Street
The Insurance Group 593 Heritage Court.
In Hudsonville:
Hudsonville Congregational United Church of Christ 4950 32nd Avenue
Love Inc. 3300 Van Buren Street
In Grand Rapids:
Manic Muse 5 Lyon street NW (They are also an ArtPrize venue!)
Balanced Health Chiropractic Center 1787 Grand Ridge Ct. NE
The Wellness Collective GR 1324 Lake Drive SE
Health for Life Grand Rapids 781 Kenmoor Ave. SE
Mindful Counseling 741 Kenmoor Ave. SE
Hopscotch Children's Store 909 Cherry Street SE
Simply Born Midwifery Services 802 Merritt Street SE
Pioneer Construction 550 Kirtland Street SW
Look through those drawers, closets, and old diaper bags. You'd be surprised at how many random diapers and packages of wipes you may find lying around! And if not, please add a box or two to your grocery list and grab some on your next venture out to Target or Costco (bulk is good)!
Diaper sizes 4, 5 and 6 are the most needed sizes. Nestlings also accepts baby wipes, used and new cloth diapers and open packages of diapers in addition to new boxes and bags of disposable diapers.