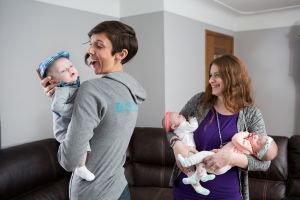 Gold Coast Doulas is Expanding Our Reach!
We have been listening to our clients and trusted health practitioners, and we are expanding our day and overnight postpartum and sleep consulting services to Northern Michigan and Southwest Michigan starting in April of 2022. Michigan postpartum doula services and support will expand along the Gold Coast of Michigan, covering 300 miles of the western shoreline.
Gold Coast Doulas is proud to announce that we will serve beach towns from Niles in the Southwest to Harbor Springs in Northern Michigan. Our doula agency is focused on exceptional service and support for families. We are currently looking for exceptional postpartum doulas who reside in Southwest and Northern Michigan.
In a recent article from Petoskey News, the Charlevoix Area Chamber of Commerce President comment "Adding to any health services in the area is beneficial for our residents, and helps our region be somewhere you can truly live, work and play year-round."
Northern Michigan postpartum doula lakeshore cities covered in the expansion include: Bay Harbor, Harbor Springs, Charlevoix, Cadillac, Suttons Bay, Petoskey, Traverse City, Frankfort, Manistee, Ludington, Silver Lake, and Pentwater.
Southwest Michigan postpartum doula lakeshore cities include: South Haven, Benton Harbor, St. Joseph, Stevensville, Lakeside, Coloma, Union Pier, Sawyer, Three Rivers, New Buffalo, and Niles.
Gold Coast Doulas has always had the intention of expanding and have been deliberate in our expansion plan. In Northern and Southwest Michigan, Gold Coast Doulas will focus on providing postpartum services like feeding, sibling care, household tasks like light housekeeping, meal preparation, and running errors. The primary focus in these lakeshore cities is on day and overnight postpartum doula services and sleep support. Gold Coast Doulas will continue to offer birth services, lactation, and classes to our West Michigan clients.
If you are interested in partnering with us or becoming a day and overnight postpartum doula, contact us at info@goldcoastdoulas.com.