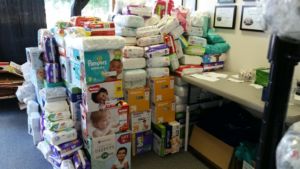 Gold Coast Doulas Give Back
The final numbers are in for the Gold Coast Doulas LLC diaper drive for Nestlings | Diaper Bank of West Michigan. We collected
18,963 disposable diapers and 142 wipes. These diapers are packed in groups of ten to impact 1,896 families in need. We are thankful to all of our clients and community members who donated from September 1st to October 1st during our third annual month-long diaper drive. Our goal was 30,000 diapers and we came closer than we had in previous years.
Gold Coast takes sustainability seriously and appreciates the generous cloth donations. We received the following used and new cloth diapers:
442 cloth diaper covers
107 cloth wipes
36 wet bags
530 diaper pads
108 prefolds
8 snappies
Many props to our fantastic dropoff locations including:
In Zeeland:
Smedley Dental 133 1/3 E Main Ave
Howard Miller Library 14 S. Church Street
In Holland:
Untangled Salon 650 Riley Street
Brann's 12234 James Street
Harbor Health and Massage 444 Washington Ave.
EcoBuns Baby + Co 12330 James Street
The Insurance Group 593 Heritage Court
Higher Health Chiropractic of Holland 98 Douglas Ave
In Hudsonville:
Hudsonville Congregational United Church of Christ 4950 32nd Avenue
Love Inc. 3300 Van Buren Street
In Grand Rapids:
The Wellness Collective 1324 Lake Drive SE
Mindful Counseling 741 Kenmoor Ave. SE
Hopscotch Children's Store 909 Cherry Street SE
Simply Born Midwifery Services 802 Merritt Street SE
Cascade Pediatrics 5150 Cascade Rd SE, Suite B
Grand Rapids Natural Health 638 Fulton St W, B
Gold Coast Doulas 1430 Robinson Rd SE, Suite 204
Rise Wellness 1430 Robinson Rd SE, Suite 201
In Walker:
ABC Pediatrics 4288 3 Mile Rd NW
Higher Health Chiropractic 4735 Lake Michigan Dr
In Wyoming:
Higher Health Chiropractic 1027 Gezon Pkwy SW
ABC Pediatrics 4174 56th St SW
Special shoutouts go to the following partners:
Ecobuns collected the most cloth diapers and had to have their bin emptied multiple times.
Higher Health in Walker collected 2,700 diapers. The most one dropoff location has ever collected. Way to go Higher Health!!!! You rock.
Rise Wellness Chiropractic collected around 1,000 diapers from their clients and supporters.
Mindful Counseling came through once again with 1,216 wipes and over 677 diaper donations.
Hopscotch had an overflowing bin with donations wrapping around their store.
Other honorable mentions with impressive collection efforts: ABC Pediatrics, Gold Coast Doulas, Higher Health Wyoming, Higher Health Holland, Cascade Pediatrics, Grand Rapids Natural Health and all of the permanent dropoff locations in Holland/Zeeland and Hudsonville.
Much needed awareness was generated from a great radio segment on WGVU with Shelley Irwin featuring Alyssa from Gold Coast and Dr. Annie from Rise Wellness Chiropractic.
Erica Francis of Fox 17 interviewed Kristin from Gold Coast and Emily from Hopscotch Children's Store and we received an overwhelming response of phone calls, emails and drop-ins to Hopscotch.
Many thanks to other area media friends who personally shared the information or ran PSA's during the diaper drive campaign. We appreciate you all.
Final thanks goes to Nestlings for coordinating pickups and supporting our efforts along the way and to all of you who donated and spread the word. We also want to congratulate our amazing team who personally donated diapers, delivered collection boxes, spread the word, and delivered diapers to Nestlings. We couldn't have made the impact without our team of doulas and our partnered dropoff locations.