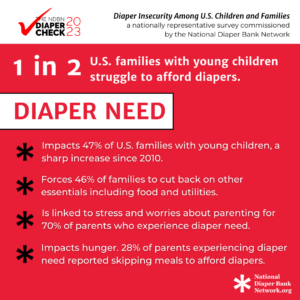 Gold Coast Doulas is holding our 8th annual Diaper Drive from September 1st to October 1st, 2023. Giving back is an important foundation of our business as a Certified B Corporation; clean diapers make a significant impact on the health of new families and our giving focus is on supporting low-income women and children.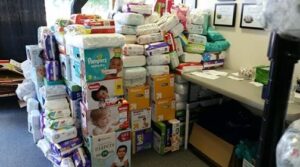 One in two U.S. families with young children struggle to afford diapers and no government programs currently provide them. This rate increased from one in three in past years. Food, shelter, and utilities are the only items covered by assistance. Diapers are expensive and many families make tough choices between paying rent and utilities or buying diapers. Research shows that 48% of parents delay changing diapers and 32% report re-using diapers to make supplies last longer.
The Gold Coast Doulas diaper drive coincides with National Diaper Need Awareness Week, September 18th – Sept 24th. Diaper Need Awareness Week is an initiative of the National Diaper Bank Network (NDBN), created to make a difference in the lives of the nearly 5.2 million babies in the United States aged three or younger who live in poor or low-income families.
Our annual diaper drive benefits Nestlings Diaper Bank of West Michigan and Great Start Parent Coalition of Kent County. Holland-based Nestlings has distributed over 2 million diapers and helped over 50,000 families since 2011. Nestlings Diaper Bank also works with 31 partner agencies to distribute the diapers to the families in need.
Our goal is to collect 10,000 diapers to support families in need in Kent, Ottawa, and Allegan counties to celebrate our 8th anniversary. We collect opened and unopened boxes and packages of new disposable diapers, used cloth diapers and cloth supplies, new cloth diapers, and new boxes or packages of wipes. We need your help to make this happen.
Diaper donations will be accepted from September 1 to October 1st at the following partnered drop-off locations:
In Zeeland:
Howard Miller Library: 14 S. Church Street
Lake Michigan Credit Union: 8630 E. Main St
In Holland:
Brann's 12234 James Street
EcoBuns Baby + Co.: 11975 E. Lakewood Blvd Suite 6
The Insurance Group: 593 Heritage Court
Lucas Scott. Co.: 650 Riley St.
Harbor Health & Massage: 444 Washington Ave
Lake Michigan Credit Union: 677 E 8th St.  and 3494 West Shore Dr
In Greater Grand Rapids:
Rise Wellness Chiropractic PLC: 1005 Lake Dr SE
Hopscotch Children's Store:909 Cherry St SE
Mind Body Baby: 1501 Lake Dr SE
Advent Physical Therapy: Four locations
Cherry St: 245 Cherry St. SE, Suite 102
Byron Center: 2373 64th St SW Suite 2100
Alpine: 933 3 Mile NW #204
Caledonia: 10047 Crossroads Ct Suite 150
Mindful Counseling GR: Three locations
985 Parchment Dr SE Grand Rapids, MI 49546
3351 Claystone St SE Suite G 32
113 Lake Michigan Drive NW, Standale
Fit4Mom Grand Rapids: Donations accepted at classes.
Gold Coast Doulas: Donations are accepted at classes or left outside the door of our office.
We appreciate your support! You can donate directly to fill Nestling's Amazon Wish List or through their website via Paypal at: http://nestlings.org/how-to-help/.
Contact us at info@goldcoastdoulas.com with questions.