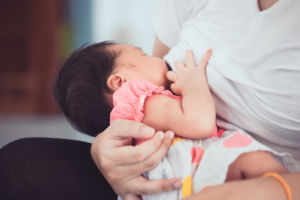 7 Things You Didn't Know About Breastfeeding
Today's guest blog is written by Natalie Michele of Maternity At Home.
As soon as you start to breastfeed, most of the women you meet on a daily basis, including your mom, friends, and even acquaintances, will have one or two things to tell you about what to do when nursing a baby. Some will tell you that eating cabbage will work wonders for you while others will advise you on when to start expressing milk by use of a breast pump. However, there is a whole lot of information that is left out. Here are some of the things you probably didn't know about nursing a baby:
1. Your Diet Does Not Define You
Naturally, your body will make quality and healthy milk for your baby. Adopting a healthy diet while breastfeeding is not about producing "healthy milk" but is more about making sure your body maintains both its health and energy. Therefore, there is no need for you to agonize over not eating like a dietician. 
If you have chosen to eat two Oreos instead of a plate full of veggies, don't get depressed or suddenly think you aren't going to produce the very best milk for your baby. You can always fill the nutritional gap by simply taking a prenatal vitamin. These vitamins are often loaded with iron, calcium, and vitamin D.
2. Expect Increased Cramps
Oxytocin, the same hormone that is responsible for milk letdown is also the culprit for increased cramps. This hormone causes your uterine wall to shrink and as a result, triggers contractions from the uterus. 
As annoying and uncomfortable as these cramps may be, it is a good sign; it shows that your body is healing well. Some researchers believe the pain increases with subsequent pregnancies; this is because the uterine wall stretches a little bit more every time you have a baby.
3. Leaky Breasts
You can blame this on the same hormone, oxytocin. A single thought about your little one, talking about him or her, or hearing another baby cry will often trigger your body to release oxytocin and most likely a little bit of breastmilk along with it.
This could be embarrassing more so when it happens when you are out with friends, at work, or even on the streets. However, this should not worry you. It happens to each and every mom who is nursing a baby. To sop up the milk leakage, you could buy yourself some nursing pads or reusable silicone cups whose pressure prevents any milk letdown.
4. Your breast milk is different from the milk from a cow's milk
Your breast milk will look different from time to time and does not in any way look like cow's milk. Your breast milk changes every now and then to meet your little one's nutritional needs. 
In the beginning, your breasts will produce yellowish-white colostrum that is quite sticky and loaded with proteins. A few days later when the milk letdown increases, your milk will have two parts; you will see these two parts separate when stored in the refrigerator. One part is watery while the other contains more fat and has more cream thus making it appear thicker.
5. Latching on can be super hard 
Lactation Consultants believe that by establishing a good latch, many other breastfeeding problems can be avoided. For you to have a good latch, you have to make sure that your nipple and at least half your areola are inside the little one's mouth as you breastfeed. 
A bad latch will cause you to feel a pinch while nursing which will eventually lead to you have sore or cracked nipples. If this happens you may want to try pumping and storing your breast milk to help you while your breasts can heal. 
6. A quality bra is a must-have
While breastfeeding, most women's boobs grow bigger. For this reason, it is important to wear a quality bra that will not only offer you comfort but also minimize the sagging of breasts that often happens post pregnancy. Invest in a bra that has a wide band that fits comfortably under the breasts and has cups that offer support without being too tight. You want to take care of yourself as best as possible.
Avoid wearing bras with an underwire as they could inhibit the flow of milk and cause your milk ducts to get clogged. If you are not so sure about the right bra for you, feel free to get a professional fitting from a medical care store or the maternity department.
7. You may experience breast engorgement
A few days after delivering your baby, your breasts will begin to produce lots of milk. When your breasts are full you will experience engorgement. Initially, it may be super uncomfortable, but the situation will get better as your milk supply syncs with the little one's demands. 
To relieve you from the engorgement pressure, you could:
Wake your baby up for breastfeeding
Consider expressing milk using a breast pump
Shower or bathe with warm water
To avoid the feeling of engorgement, you could:
Keep switching the first breast you offer the baby during the nursing sessions
Breastfeed for 15 or 20 minutes on each side before switching
References:
https://www.parents.com/baby/breastfeeding/problems/breastfeeding-soothing-solutions/
https://www.thebump.com/a/11-things-you-didnt-know-about-breastfeeding