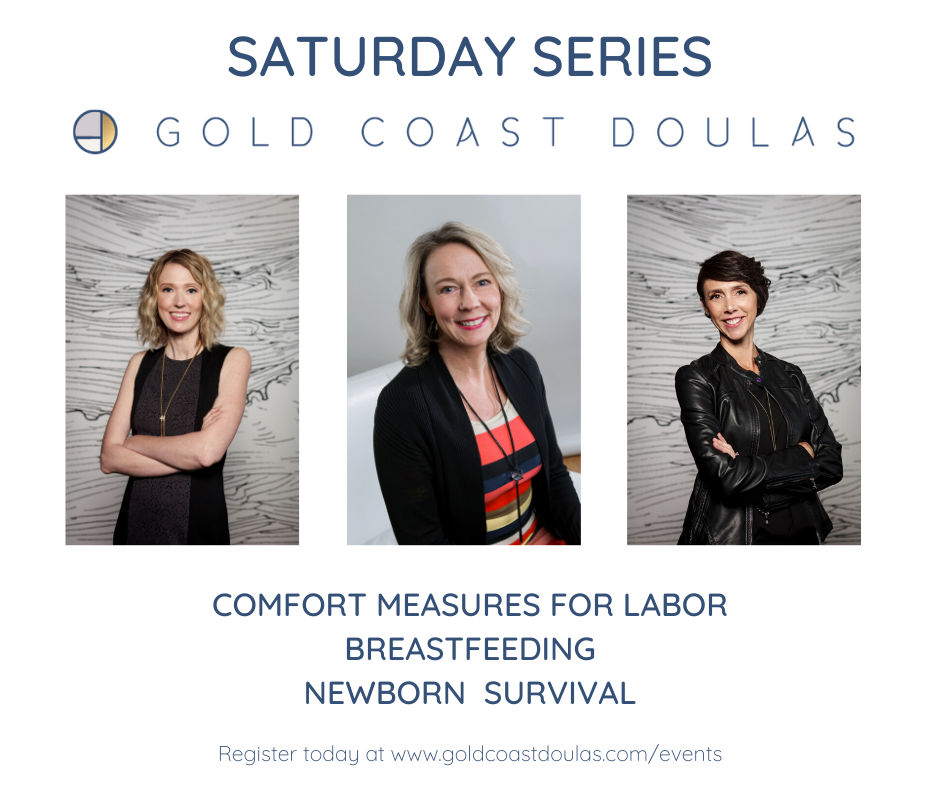 Gold Coast Doulas offers a Saturday Series of classes including Comfort Measures for Labor, Breastfeeding, and Newborn Survival. You can sign up for one, two, or all three classes.
Comfort Measures 9:00am – 11:00am
Lunch Break 11:00am – 12:00pm
Breastfeeding 12:00pm – 3:00pm
Break 3:00pm – 3:30pm
Newborn Survival – Recorded to view anytime!
Comfort Measures for Labor $85 – $125
This hands-on workshop, taught by Certified Birth & Postpartum Doula Kristin Revere, focuses on comfort measures for labor and birth. This class covers medical and non-medical pain relief options, communication, positions for labor and birthing, and breathing techniques.  It will ease your mind as you prepare for birth.
This workshop is perfect for both first-time and seasoned parents. This class does not replace a comprehensive childbirth class. It will not cover stages of labor or interventions. This class includes worksheets.
This class has virtual or in-person private options.
Breastfeeding: Getting a Strong Start $85
A comprehensive course with Board Certified Lactation Consultant, Kelly Wysocki-Emery.
Perfect for expectant parents who plan to breastfeed. Designed for singles or couples, we will cover all your questions about breastfeeding, leaving you more confident than when you came. We will cover everything and still leave time for pumping/work/bottle questions. Bringing your partner in crime along is highly recommended, as they will be a crucial part of the teamwork needed to breastfeed (you can bring one support person for free).  Can't wait to meet you!
Topics covered will include:
Your amazing breasts and the milk they produce.
Your amazing baby mammal.
Typical positions plus some not-so-typical ones that may work better for you.
Ways to get the best latch possible and how to heal if it hurts.
Normal feeding behaviors, patterns, and expectations.
The most common roadblocks in breastfeeding and how to overcome them.
How to squirrel away milk for when you go back to work.
How to combine pumping and working.
Ways Dad/Partner/Grandma/Doula can help with breastfeeding.
How to Bottlefeed your breastfed baby.
Your pump options–I'll bring 5 pumps to explore.
Get all of your nagging questions answered during this 3 hour class.
Newborn Survival $85
Learn how to survive your first several weeks home with baby! In this laid-back class, you will go over real-life scenarios so that you're confident and prepared when your baby arrives. Your instructor, Alyssa Veneklase, is a Certified Postpartum Doula, Newborn Care Specialist, and Certified Infant & Child Sleep Consultant. She will answer common questions about feeding, fussiness, soothing techniques, swaddling methods, bathing, safety, sleeping, and more.
She wants parents to know they're fully capable of doing this, they just need to know what to expect ahead of time. You've got this!
This class is part of our Saturday Series, but is not offered live. A recorded version of the class will be emailed to you, along with the worksheets, that can be completed by the student at any time. Alyssa offers a scheduled live 30 minute call to answer questions.
Each class is $85. Remember, you can register for one, two, or all three! If you decide later to attend another class, you can sign up the day of (as long as the class is not full). To register just fill out the registration form on the website and let us know which class date you're interested in.
Comfort Measures requires a minimum of 2 registrations. Students will be notified if a class is cancelled.
Breastfeeding requires a minimum of 4 registrations. Students will be notified if the minimum is not reached, and a recorded version of the class will be sent that can be completed by the student at any time.
We accept most HSA and FSA accounts for the classes.
Instructor:   Kristin Revere, Alyssa Veneklase, Kelly Wysocki-Emery
Location: Gold Coast Doulas office
Organizer: Gold Coast Doulas