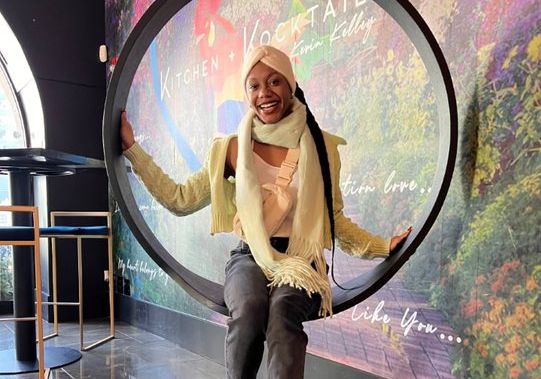 Meet Mya, Our Newest Postpartum Doula!
As you know, when we bring a new person onto the Gold Coast team, we love to find out more about them and
share that with you!
Let's find out more about Mya.
1) What did you do before you became a postpartum doula?
Before becoming a doula, I worked as a swim instructor, and as a head swim coach for young children in
Naperville, Illinois. After that, I went to Central Michigan University to earn a bachelor's degree in science.
2) What inspired you to become a postpartum doula?
I've always been fascinated with pregnancy as a whole, after watching my family members, experience,
pregnancy, childbirth, and postpartum. I knew I would be the perfect helping hand for those who look like me,
which is what inspired me the most. I want other minorities to feel comfortable while giving birth, which is why I
pride myself on creating such a warm and open environment.
3) Tell us about your family.
My family has a very tight bond, we are quite a small family, because of this we spend lots of our free time
together whether it's hanging out and enjoying each other's company or traveling and going on new
adventures. Overall, my family is very loving and supportive, and most of all we love to have a good laugh.
4) What is your favorite vacation spot and why? 
My favorite vacation spot is probably Barcelona Spain, the reason for this is because I'm a total foodie, and the
food there was beyond fresh and different from anything I've ever had before. Also, the architecture of all the
buildings were incredibly breathtaking.
5) Name your top five bands/musicians and tell us what you love about them.
This is a hard question, considering I enjoy listening to almost all genres of music.
6) What is the best advice you have given to new families?
The best advice I have for families is to stick with their goals and values, just because they don't align with
others in your community does not mean they are wrong, and also to give yourself grace and patience. Some
things take time to heal, and we must be mindful of that.
7) What do you consider your doula/consultant superpower to be?
I believe my doula superpower is making people feel comfortable and empowered, no matter what the situation
is. Growing up looking different from most of my peers I know how it feels to be in uncomfortable situations.
This is why I pride myself on being able to make others feel both comfortable and confident in all environments.
8) What is your favorite food?
My favorite food is tacos, I could probably eat tacos every day for the rest of my life.
9) What is your favorite place on West Michigan's Gold Coast?
Since I'm not a Michigan native, I absolutely love going to the dunes, we don't have anything similar to that in
Chicago so it's always a fun treat.
10) What are you reading now?
Self-care for new moms
11) Who are your role models?
I would say, my mom is one of my biggest role models, she's taught me how to be kind, empathetic,
independent, and resilient.
Mya serves day and overnight postpartum and infant care clients in West Michigan, SW Michigan and Northern
Michigan.